NAIG 2023 Volleyball Coach Receives Sport Manitoba Coaching Award
Gabrielle Wishart
Peter Williamson Memorial Award - Train to Compete/Train to Win
Sport Manitoba Coaching Awards presented by Manitoba Liquor & Lotteries
As an Indigenous woman, Gabrielle Wishart takes her role as coach seriously. As a volleyball coach for the past seven years, she recognizes the impact she has on the athletes she works with and mentors and always tries to lead by example.
She has been both assistant and head coach of the 204 Volleyball Club, all while mentoring younger coaches. Between 2018 and 2021, Gabrielle was the head coach for the girls' grade nine volleyball team at Institut Collegial Vincent Massey Collegiate. In 2023, she was selected as the head coach for Team Manitoba's 16U male volleyball team and placed first in their age category at the North American Indigenous Games (NAIG) in Halifax. After a week of competition, her team finished with an 8-0 record and an international championship.
Representation Matters
Aside from coaching, she has been a member of the Volleyball Manitoba Board of Directors since 2021, working on initiation, development and marketing. It is her responsibility to promote and endorse the sport to those within the community as well as those who may not yet be aware of the opportunities volleyball can provide. Through the Manitoba Aboriginal Sports and Recreation Council, Gabrielle has planned, organized, and executed volleyball programs specifically for Indigenous women and girls living in both urban Winnipeg and rural communities - including with Agoojin Volleyball Club.
Gabrielle has actively used her role as a coach to advocate for better representation within the sport of volleyball. In 2022, she participated in the Sport Manitoba Coaching Female Mentorship Program as a mentee and is a member of the Anti-Racism in Sport Youth Committee. In her role, she organized a youth conference discussing the lack of representation and diversity in coaching and administration.
Coaching for Long-Term Athlete Development
Gabrielle coaches athletes at the stage where many decide whether or not to pursue sport more seriously. She introduces these athletes to high-performance training, nutrition, and mental preparation in an effort to better prepare them for their competitive decisions. For example, ahead of NAIG, Gabrielle knew she had many athletes who possessed the talent to compete at a post-secondary level, but had no understanding of what that commitment looked like. She structured her practices to challenge the athletes tactically and physically, and she brought in facilitators, role models, and other coaches to help round out her programming in preparation for NAIG.
Gabrielle emphasizes playing the game honestly and following the rules. In teaching the rules, she also gives the reasoning behind them, so her athletes can better conduct themselves on the court. She encourages a positive team culture through cheering, celebrations, and affirmation - while discouraging unsportsmanlike behaviour. She makes sure athletes are polite and cordial to officials before and after games and encourages the rest of the team to interact with officials, other teams/athletes, and coaches in a respectful manner. Gabrielle encourages her athletes to give back through coaching or volunteering within and outside of their sport.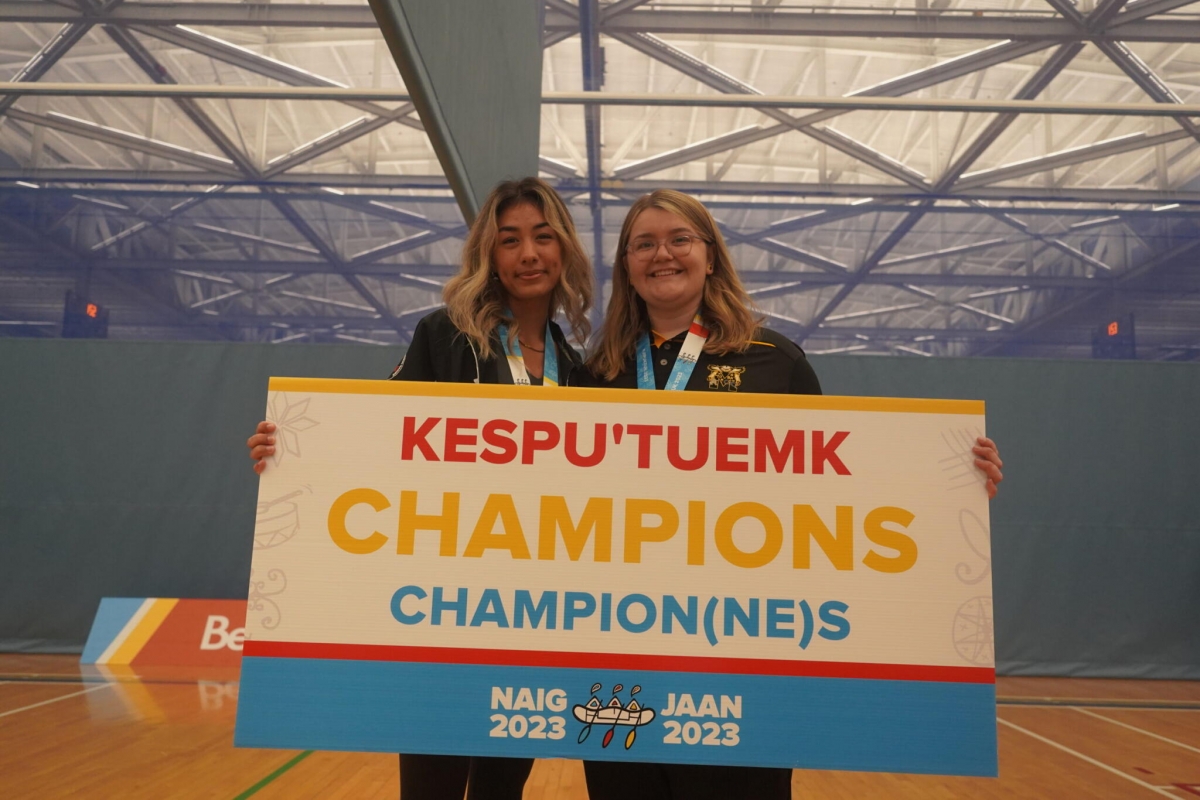 More Than Just A Game
As head coach at NAIG 2023, Gabrielle recognized that this opportunity was about more than simply playing volleyball. It was an educational and cultural experience that could positively impact her team's identity and understanding of who they were as Indigenous athletes. It integrated cultural teachings and practices into their team bonding and pre/post-game rituals like smudging, making medicine bags, and braiding sweetgrass. Gabrielle was intent on creating space for athletes to practice their culture, learn other cultural teachings, and reconnect with ones that may have been lost.
Gabrielle has an open-door policy with all athletes regarding mental health and resources they have access to, and she creates a safe and inclusive environment by respecting the cultural and religious practices of athletes. She encourages athletes to play and participate in multiple sports, including age-appropriate strength and conditioning that are on track with long-term plans. Gabrielle creates an environment in which the athletes have autonomy over their own development. Additionally, she encourages athletes to provide feedback on practices and games so they feel involved and have a voice. She wants them to understand what suits their learning style and individual development. Her goal is to support the whole athlete and create well-rounded, fun, and positive experiences for them. Her commitment to holistic coaching has allowed her teams to win both nationally and internationally.
Sport Manitoba Coaching Awards presented by Manitoba Liquor & Lotteries
The Peter Williamson Memorial Award for Train to Compete/Train to Win is awarded to coaches who primarily work with high-performance athletes that compete at the national or international level.
Source: "Coach Feature: Gabrielle Wishart". Sport Manitoba, September 19, 2023.
---