Ambassadors
2021-2022 MASRC Ambassadors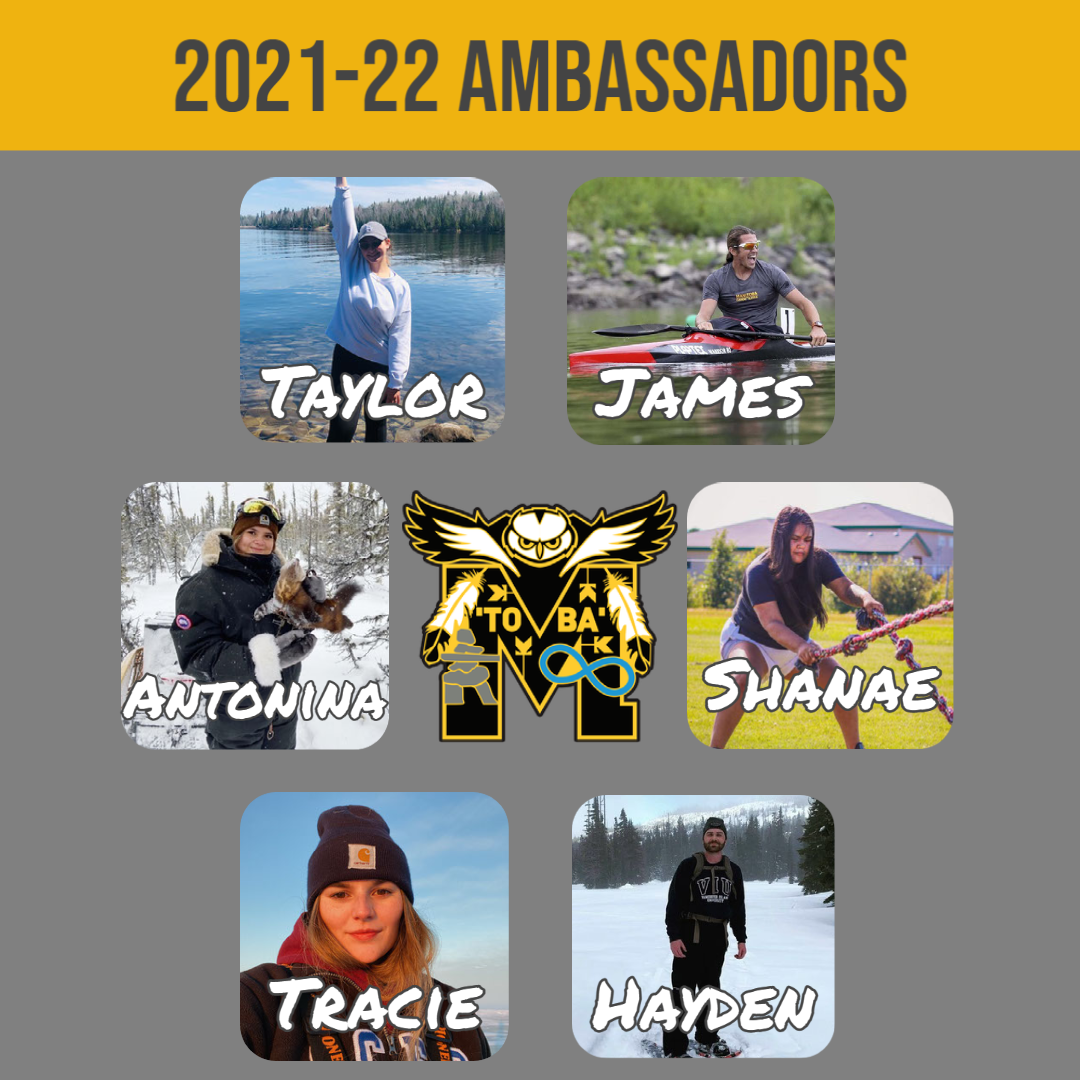 Antonina Kandiurin
Home community - Churchill, MB
Favorite Sports/Activities: Volleyball, running, studying, spending time with friends and family, beading and sewing, playing the fiddle and guitar.
Quote: "Home will always be here for you, but these opportunities may not be"
Antonina Kandiurin began getting involved in sports when she was young, participating in t-ball, hockey, soccer, judo, swimming and others as she grew up.
Antonina's favorite sports memory is when she ran her first half marathon at 16 years old. Only a few months after her Type 2 Diabetes diagnosis, training and running gave her a purpose and helped get through that difficult time. She was the only runner in the polar bear marathon in Churchill under the age of 18, during peak bear season and -22°C weather. Antonina dedicated this run to youth struggling with diabetes and has "never felt more accomplished than in that moment at the end of [the] 21km run".
Hayden Yaremko
Home community - The Pas, MB
Favorite Sports/Activities: Hockey, Weightlifting, Hunting, Fishing, Travelling.
Quote: "Hard work beats talent when talent doesn't work hard"

Hayden Yaremko is a 23-year-old who, through his involvement with sports has made various connections and friendships, traveled across Canada and the United States, and earned important life skills. Hayden's parents have motivated him from a young age to immerse himself into different sports and continue to remind him that "hard work beats talent when talent doesn't work hard". Hayden finds it crucial to have a strong sense of community and enjoys the support and contributions that his community members from The Pas can give him! Hayden would like to keep his connection and leadership within the hockey community, by coaching and motivating young athletes to grow and use their experiences from sports in their everyday life, just as he does.
"My recommendation to others, especially the youth, would be don't be afraid to step out of your comfort zone and try a sport or join a team. You never know where it can take you in life or who you will meet along the way."
James Lavallee
Home community - Métis from Winnipeg, MB
Favorite Activities: Canoeing, Fishing, hiking, running, training, and learning the Michif language.
James Lavallee is currently attending post-secondary education because of his growth and development through sports. James and his family made it a priority to connect him with a sport that he loved and could rely on. Being involved in sports and recreational activities has allowed James to find a balance between his sports and school tasks, helping him discover who he is, what he enjoys, and what he is successful at. James grew up hearing the phrase "DYB, DYB, DYB" (pronounced dib dib dib) DYB meaning; do your best, which continued to motivate him to try his hardest in every aspect of his life, especially in sports and school. James enjoys the community engagement aspect of sports and has co-founded the non-profit Waterways Recreation program to help support and promote paddling programs within Manitoban Indigenous communities. James plans to continue acting as a leader and making a meaningful difference within his community.
"If I could share one aspect with my community it would be that the power of sport, especially culturally relevant sport and recreation, is limitless. What we can do with our lives when we are supported by quality sports and recreation programs will surprise even our most optimistic selves."
Shanae Clarke
Home community - Norway House Cree Nation, MB
Quote: "Inspire people so that they can be great in whatever they want to do"

Shanae Clarke has been playing sports, specifically hockey, since she can remember. Shanae has grown up with sports in her life, with her grandfather and uncle both having diplomas in Recreational Management, influencing her to not only participate in sports, but to become a leader as well! Being involved in sports has given Shanae a place to be herself, and to gain lifelong friendships and connections within her sport and community. She loves the community aspect of sports that she has experienced, which has further pushed her to work towards her goals within her sport. She wants to "inspire people so that they can be great in whatever they want to do", said by Kobe Bryant, and to be a role model within her community, so the youth can grow and learn through sports just as she did.
Taylor Tutkaluke
Home community - Winnipeg, MB
Favorite sports/activities: ringette, rollerblading, running, participate and instruct exercise classes, swim, and hike.
Quote: "Never ask someone to work harder than you work yourself", "Potential is an open promise before you achieve it"
Taylor began getting involved in sports and recreation when her parents enrolled her in ringette at 7 years old. After getting the hang of being on the ice, Taylor fell in love with the sport and never looked back.
Aside from travelling and spending time with teammates at different practices and tournaments, Taylor's favorite sports memory is the feeling of racing past everyone on a breakaway. She loves the power and control that you have while moving as fast as you can down the ice. Taylor has a lot of people in her life that inspire her to continue moving forward; her granny who fled war-torn Croatia to come to Canada, and her grandma that grew up in poverty in the Interlake region of Treaty One are just 2 of the individuals that inspire Taylor to work towards her goals and create a good life for herself.
Taylor is currently working on her bachelor's degree in Kinesiology at the University of Manitoba and is excited to utilize the skills she's learned through working with Indigenous athletes and patients.
Tracie Leost
Home community - Winnipeg, MB
Favorite sports/activities: running, weightlifting, cycling, golfing, being outside and coaching football and hockey
Quote: "Still I rise"
Tracie Leost is motivated by sports to lead a healthy, and positive lifestyle that is active and involved within her community. Tracie's biggest motivation and supporter is her mom, who registered her for any sport that she was interested in, took her to practices, games, and meets, and worked nights permanently so she could be home with Tracie after school. Tracie's mom taught her to "never forget how widely capable you are" in sports and other areas of her life. Tracie is a football and hockey team coach to youth in her community, where she is a leader and positive role model, giving kids the opportunity to have fun through sports, and the knowledge to live in a healthy and positive way. Tracie wants to continue sharing her passionate attitude and experiences with youth, to show them the positive aspects that sports can have on someone's life and be a positive presence in the lives of other community members.
---
2020 MASRC Ambassadors