Scholarships
This years scholarship deadline has passed. Keep an eye out for our next round of applications in 2022.
The MASRC was named as one of the benefactors of the 2002 North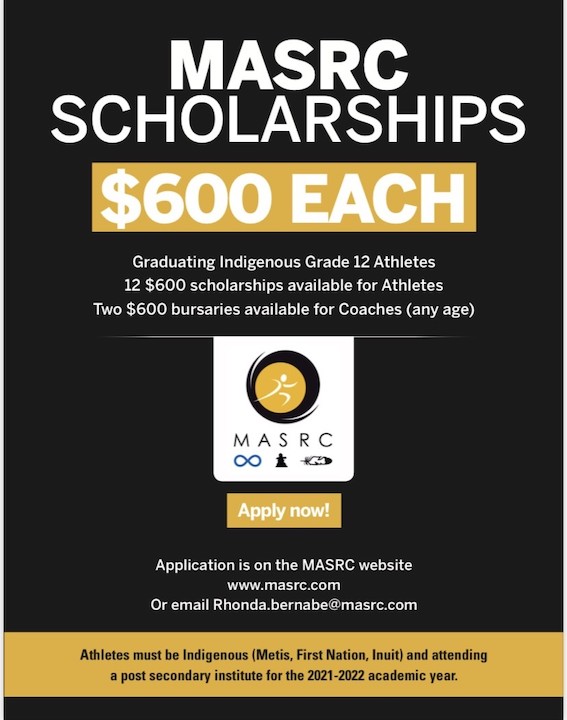 American Indigenous Games, Knowledge, Equipment, and Financial Award Legacies. Legacy funds were established through the successful hosting of the North American Indigenous Games held in Winnipeg, Manitoba, July 2002.
The 2002 NAIG Legacy Committee was formed to oversee the distribution of financial legacies left from the Games. In the 2002 NAIG Legacy Plan, consideration was made for the development and implementation of a Scholarship Awards Program for Manitoba's Aboriginal athletes and coaches, to be administered by the MASRC for the life of the fund.
The athlete scholarship is awarded to deserving male and female athletes from Manitoba who demonstrated their athletic skills and abilities in high school academics with evidence of continuing their education at a recognized post secondary institute.
The coach scholarship recognizes one male and one female coach in Manitoba who have demonstrated dedication and skill at coaching in their chosen sport, with evidence of plans for continued development in coaching.
Each recipient receives a recognition certificate and a $600 award from the 2002 NAIG Legacy Fund.
Submit applications to:
In Person/Mail:
MASRC
105 - 145 Pacific Avenue
Winnipeg, MB R3B 2Z6
Via Fax: 204-925-5716
Via Email: rhonda.bernabe@masrc.com
---
Our History
Click on the links below to see past recipients dating back since 2008
2008-Present Scholarship Recipients
---
Want to Nominate Someone for Our Annual Awards?
Click here to nominate an athlete
Click here to nominate a coach
Click here to nominate a volunteer