NAIG 2023

NAIG 2023 TRYOUT DATES AND AGE CLASSES/DATES D'ESSAIS
AGE CLASS ELIGIBILITY/ADMISSIBILITÉ À LA CLASSE D'ÂGE
***IMPORTANT INFORMATION FOR BADMINTON TRYOUTS: ATHLETES WILL NOT BE ABLE TO WALK-IN AND REGISTER IN-PERSON AT THE BADMINTON TRYOUTS.
PLEASE MAKE SURE YOU ARE PREREGISTERED BEFORE THE TRYOUTS.
---
About NAIG 2023
The North American Indigenous Games 2023 will be held in Kjipuktuk (Halifax), Nova Scotia on the territory of the Mi'kmaq from July 15-23, 2023.
The North American Indigenous Games are an international sporting competition that occurs every 3 years in different locations across North America.
If you are selected to Team Manitoba, you will be given the chance to represent your community and Manitoba at an international level. Tryouts begin the summer of 2022.
Stay tuned to our website and social media for any updates regarding NAIG 2023.
---
Tryout dates for NAIG 2023 have been selected! Please mark theses dates down in your calendar.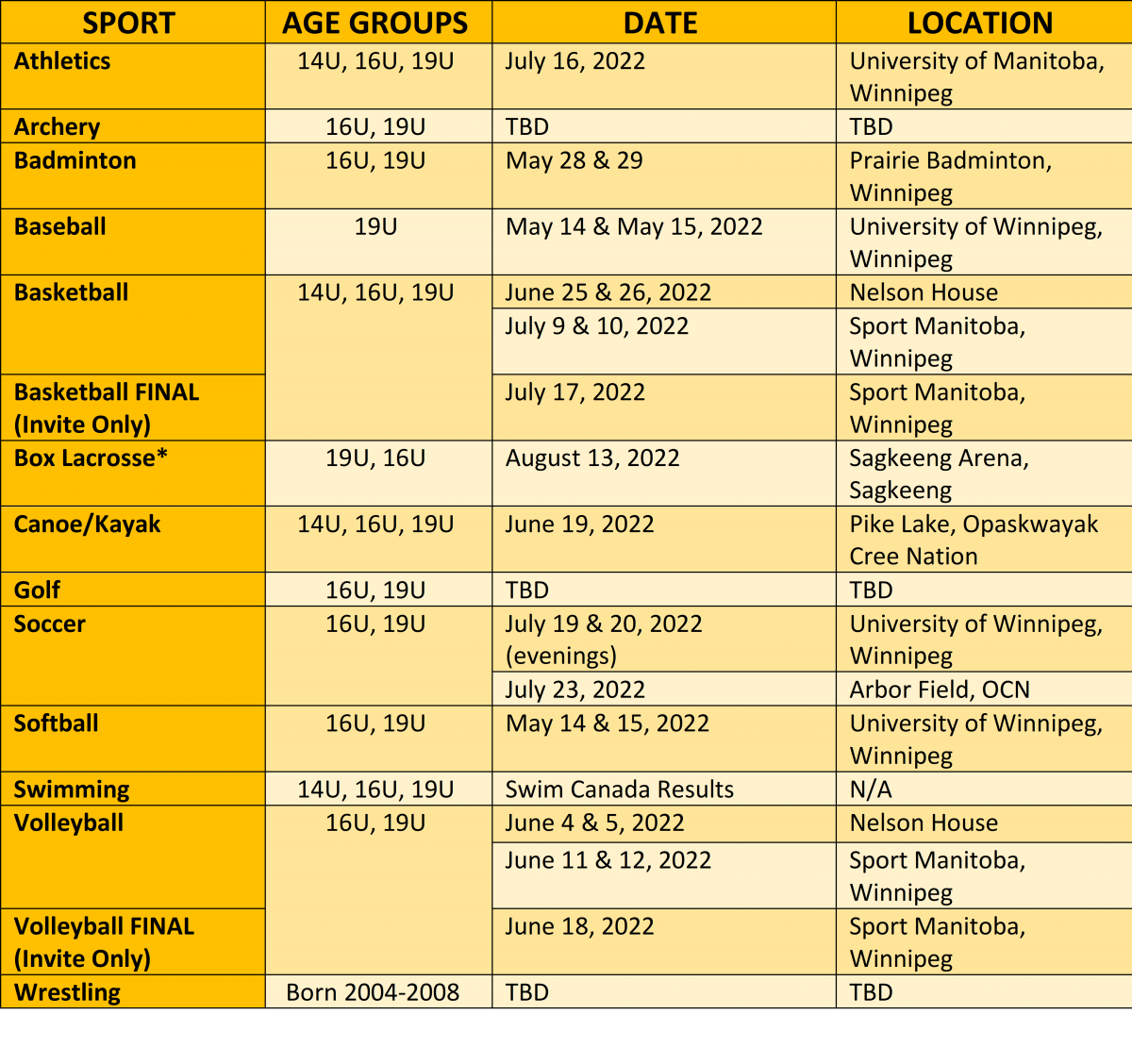 This information has been updated as of May 17th, 2022.
**Box Lacrosse - Male Team Only
IMPORTANT:
The above information is subject to change. Some dates have been updated.
Ces informations ont été mit à jour le 22 avril, 2022
---
Tryout registrations are now open!
Athletes can register and pay for tryouts online, or submit a completed registration form in-person, or by mail, email or fax.
To register and pay online, click the link below:
ONLINE REGISTRATIONS FOR SOFTBALL & BASEBALL ARE NOW CLOSED AS OF MAY 10th, 2022. YOU CANNOT REGISTER ONLINE FOR SOFTBALL OR BASEBALL AT THIS TIME.
LATE WALK-IN REGISTRATIONS WILL BE ACCEPTED AT THE TRYOUTS ONLY.
FEES IN FULL WILL BE DUE AT TRYOUTS.
To submit a paper copy in-person, or by email or fax, please print out and complete the form below:
Completed physical copies can be scanned and sent:
Via email to assistant@masrc.com.
Via fax to (204) 925-5716.
In-person or by mail to:
Gabrielle Desrochers
Manitoba Aboriginal Sports and Recreation Council
105-145 Pacific Ave.
Winnipeg MB
R3B2Z6
Tryout registration fees will be due at the latest in-person at tryouts.
---
The eligibility for each age class are as follows:
19U- Born in the years 2004, 2005, 2006;
16U- Born in the years 2007, 2008;
14U- Born in the years 2009, 2010, 2011.
Some sports may not have all of these age classes available. Please see the chart above for more information.
L'éligibilité pour chaque classe d'âge est la suivante:
19U - Né dans les années 2004, 2005, 2006
16U - Né dans les années 2007, 2008
14U - Né dans les années 2009, 2010, 2011
Certains sports n'ont pas chacune des classes d'âges.
---
NAIG CLASSICS COLLECTION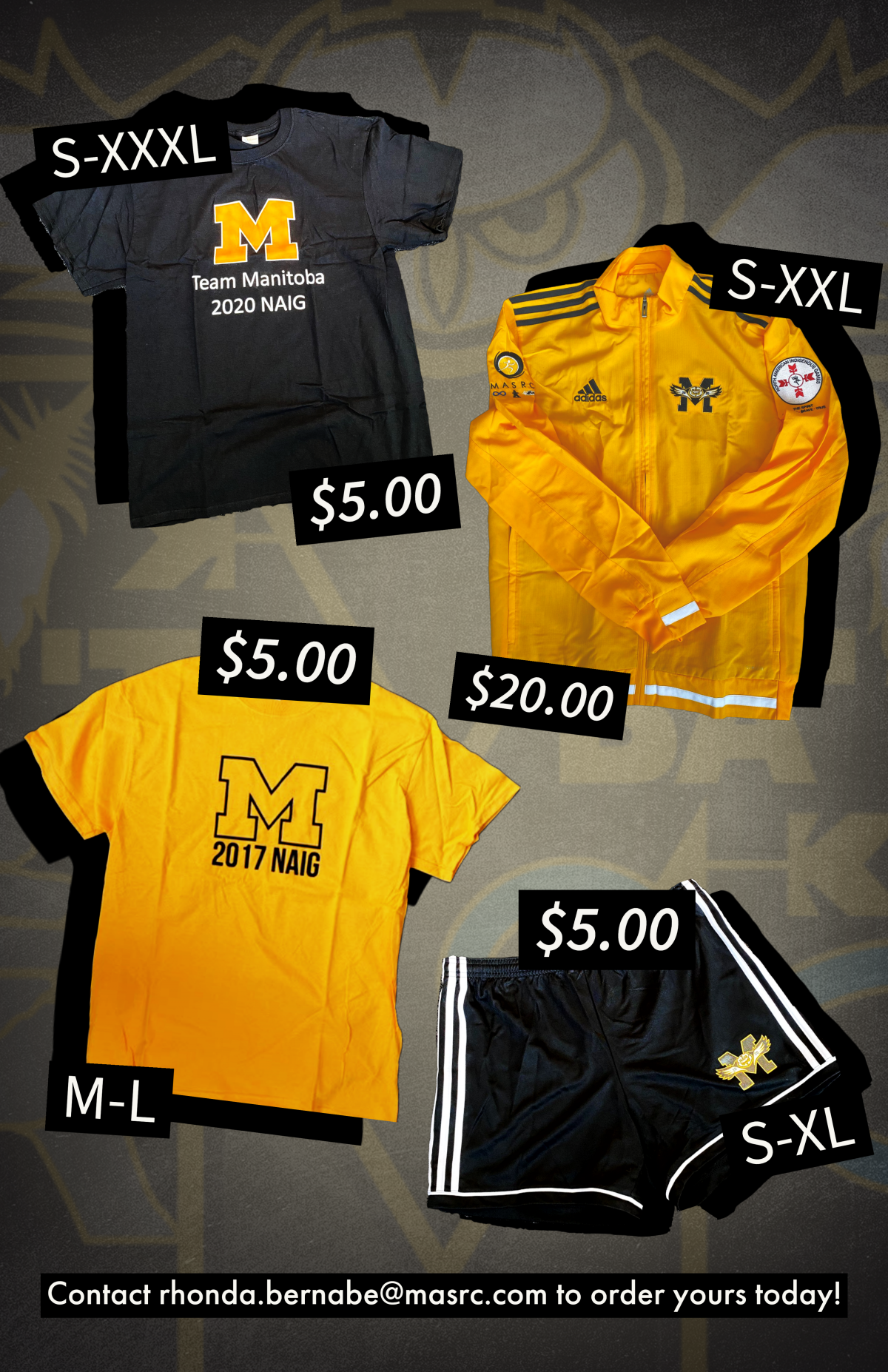 Represent Team Manitoba with pride- buy your gear today.
Contact rhonda.bernabe@masrc.com to order your gear today.
---
CEO AND FUNDING RELEASE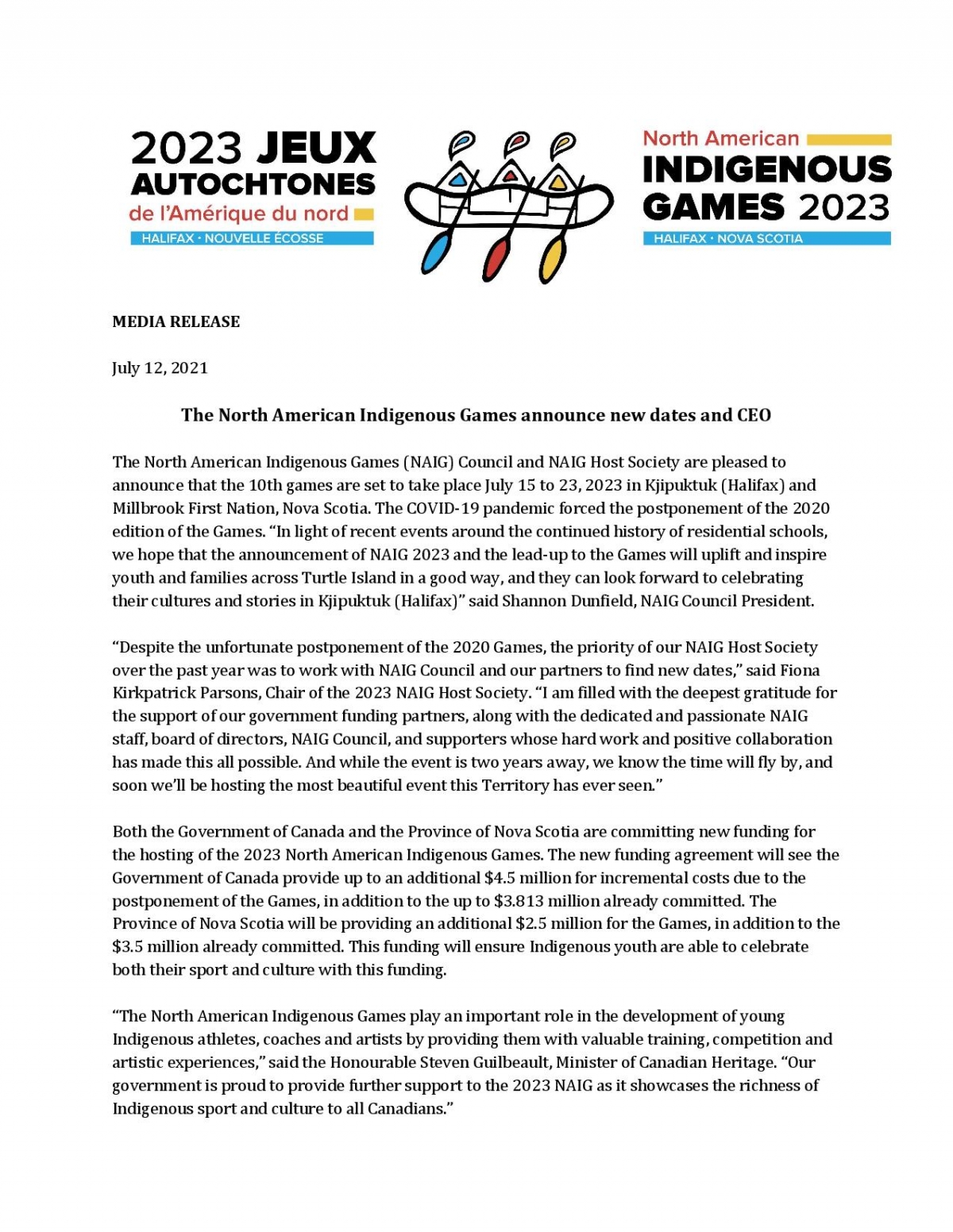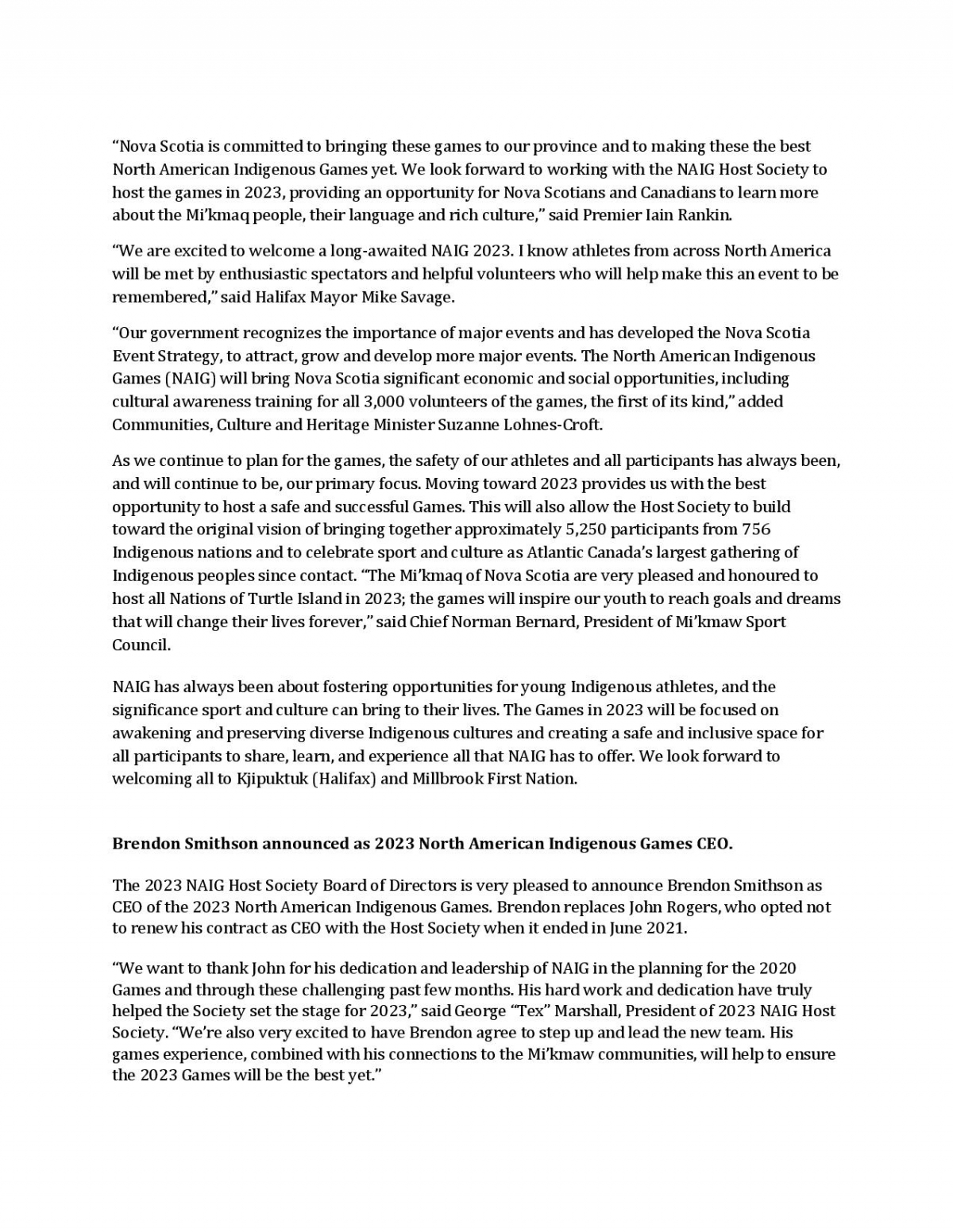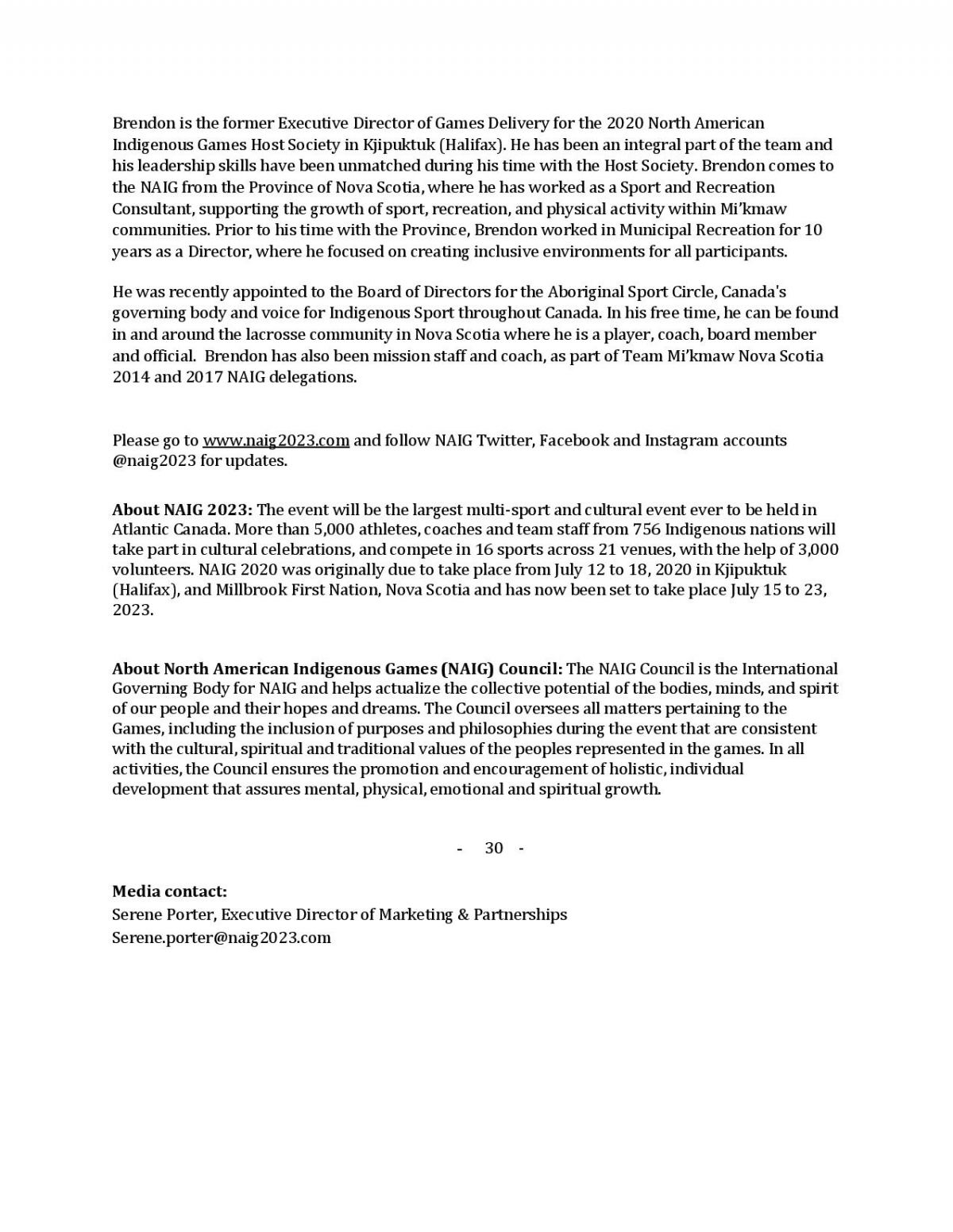 ---
OFFICIAL AGE ELIGIBILITY RELEASE FROM THE NAIG COUNCIL: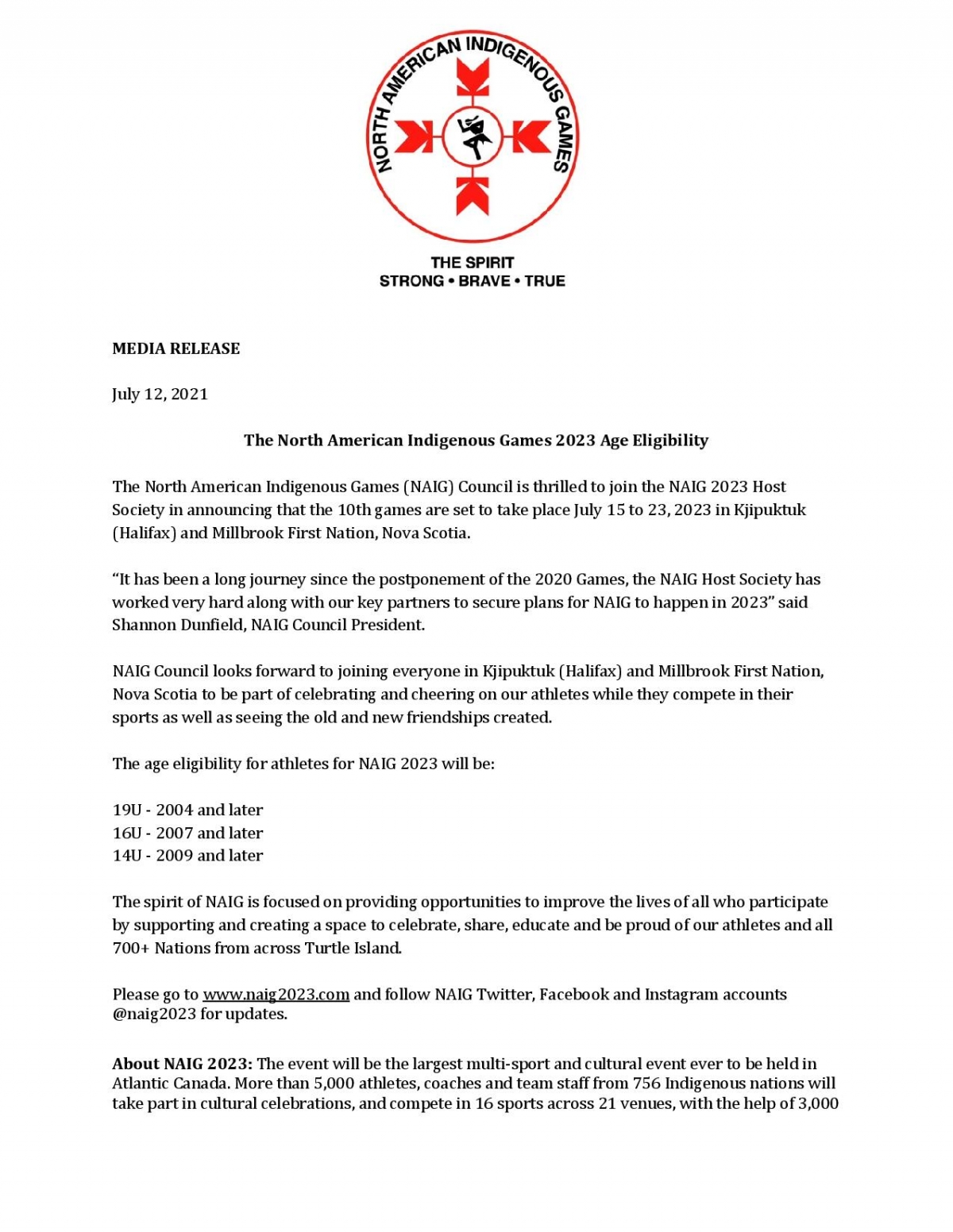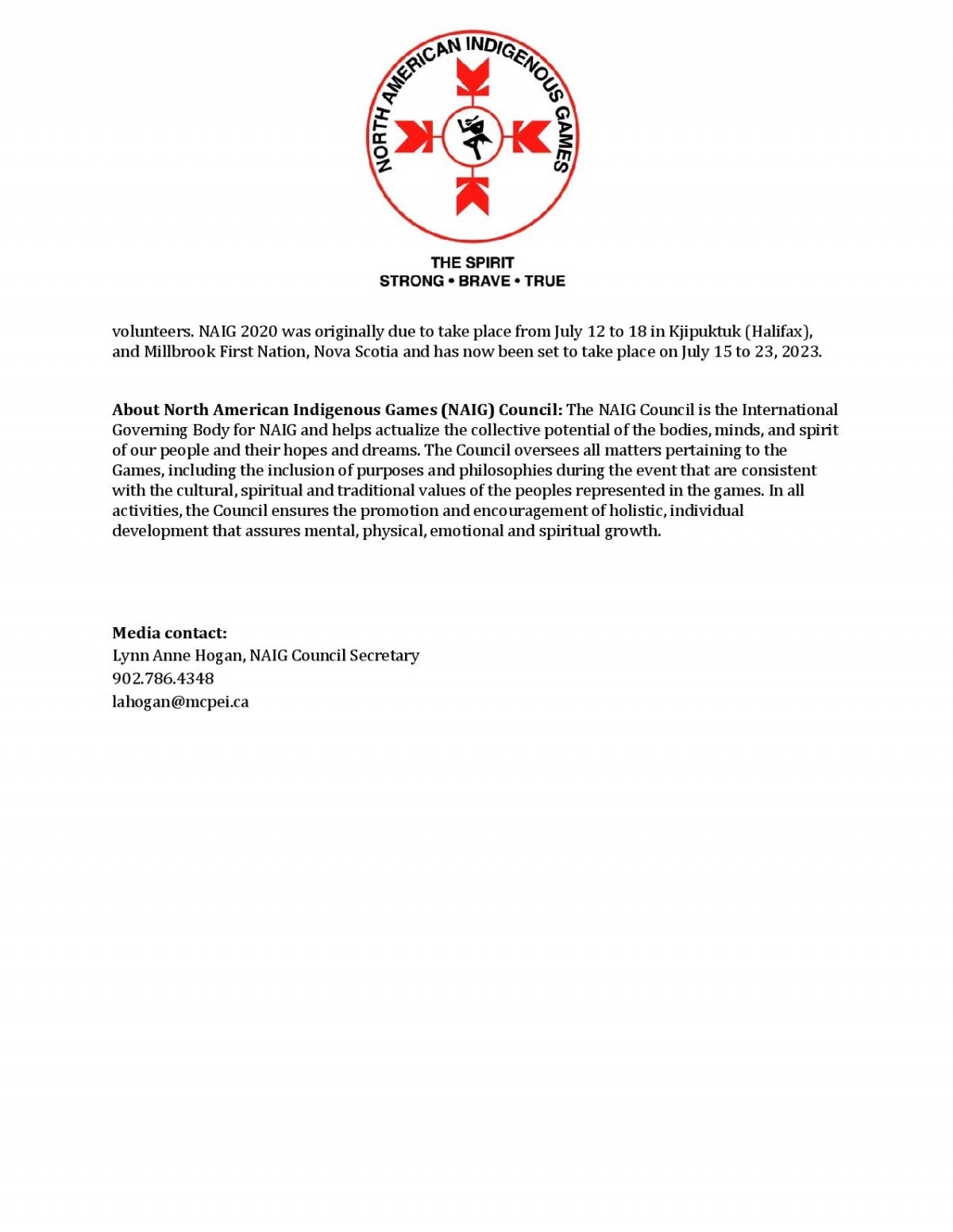 If you have any inquiries, please email assistant@masrc.com.