Club Teams
Basketball
NEW - Winnipeg Minor Basketball Association Teams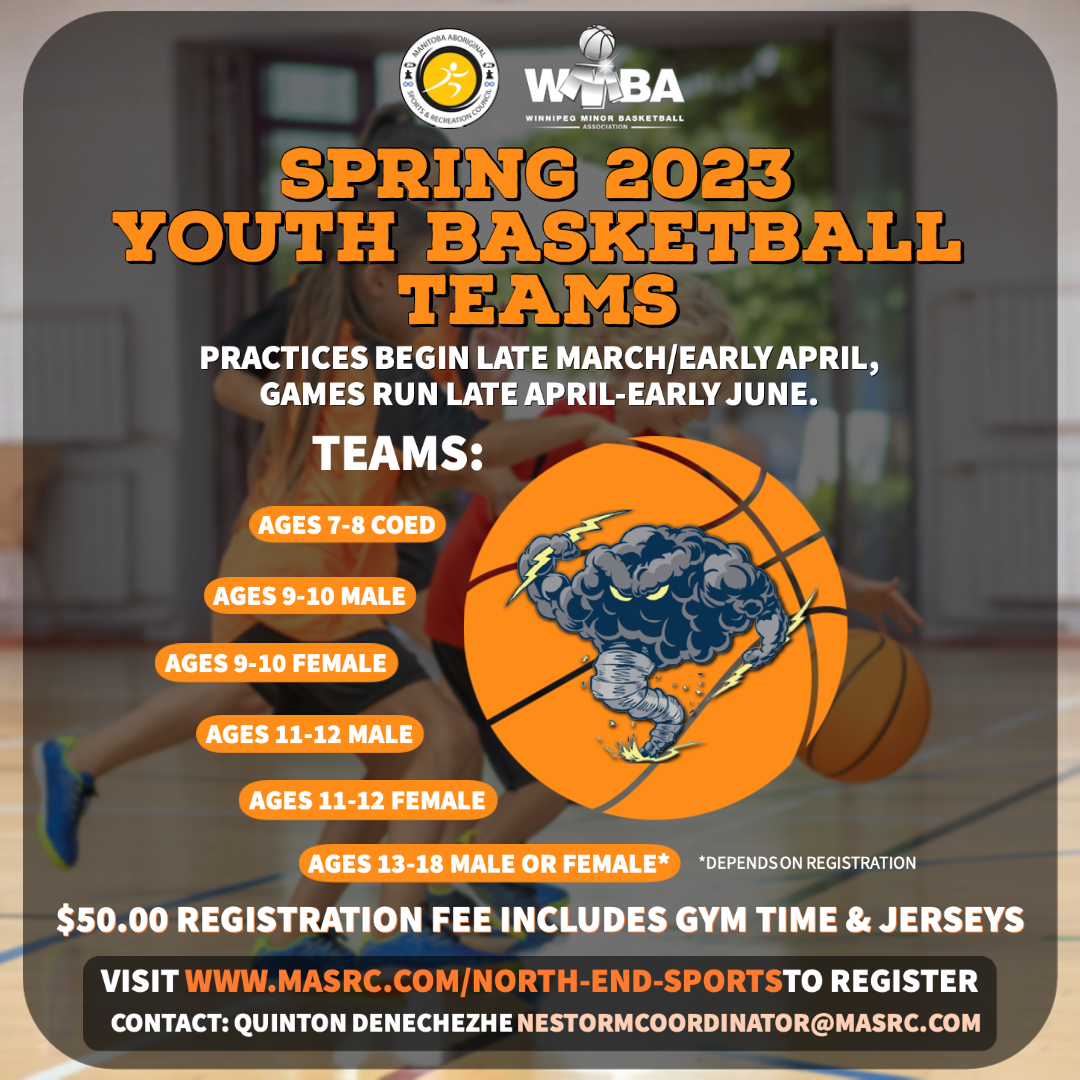 About the WMBA
The Winnipeg Minor Basketball Association (WMBA) was established in 1997 with a vision to provide a structured basketball league for Winnipeg area children, open for all to participate.
The WMBA is a community basketball league open to youth living in the city of Winnipeg. Games are on Saturdays or Sundays, with practices occurring on weeknights.
Team Eligibility
The Manitoba Aboriginal Sports & Recreation Council (MASRC) is a Provincial-Territorial Aboriginal Sport Body (PTASB).
Priority for the MASRC Central Storm basketball teams participating in the WMBA will go towards Indigenous (First Nations, Metis, Inuit, & Non-Status) & non-Indigenous youth living in and around the North End and Central areas.
Please click on the link below for a map of our program boundaries.
North End/Central Boundaries Map
If an athlete has previously played with a WMBA team in the past, then they are ineligible for our program and must register with their respective team. We will not be accepting registrations for players who have participated in the WMBA before unless they now live within the catchment area as of January 2023.
Thank you for your cooperation.
The link to register for other WMBA teams can be found HERE.
Registration Information
Registration Instructions:
1. Complete the registration form:
2. Submit to:
Quinton Denechezhe
North End Multi-Sports Program Coordinator
Forms can also be completed in-person at:
105-145 Pacific Ave Winnipeg MB R3J 0L1
3. Receive confirmation of enrollment and then submit payment for team fees using the information below.
Please only submit payment after your position on the team has been confirmed.
Team Fees
The total fees due for each team are $1,570.00.
MASRC will be subsidizing the cost of athlete's team fees. Please read the chart below for more information on how much MASRC will be subsidizing.
| | | | |
| --- | --- | --- | --- |
| Roster Size | Team Fees | MASRC Subsidy | Total Amount Owed by Athlete |
| 8 | $196.25 | $146.25 | $50.00 |
| 9 | $174.44 | $124.44 | $50.00 |
| 10 | $157.00 | $107.00 | $50.00 |
| 11 | $142.73 | $92.73 | $50.00 |
| 12 | $130.83 | $80.83 | $50.00 |
We are asking each athlete to pay $50.00 of the total cost. This will be due at registration.
The $50.00 registration fee can be paid via:
Payment Method
Instructions
E-Transfer

Send to:

Rhonda Bernabe, Finance Manager

Please include your child's name, age, and the program name in the subject.

Cheque

To: Manitoba Aboriginal Sports & Recreation Council

Re: Your Child's Name, Age, and Program Name

Cash

Debit

Credit

In person at:

Manitoba Aboriginal Sports & Recreation Council

105-145 Pacific Ave Winnipeg MB R3J 0L1

Monday - Friday (excluding holidays)

9:00AM-4:30PM