NAHC
Team Manitoba 2022 Roster Announcement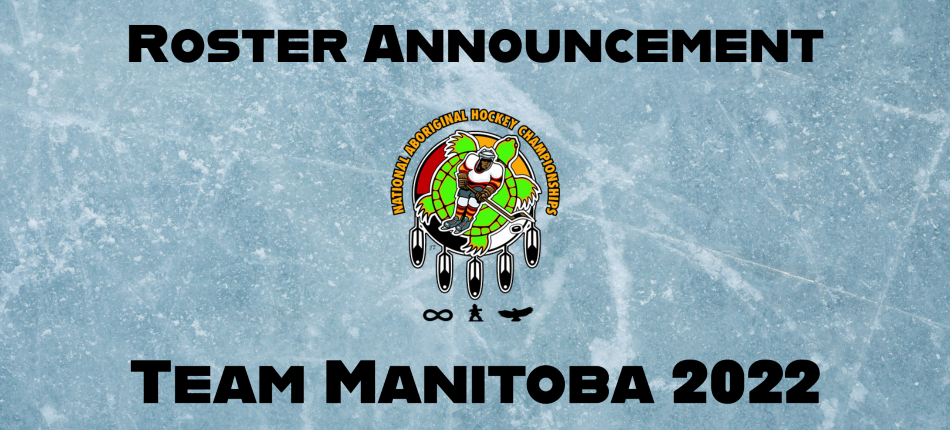 Congratulations to all athletes selected to Team Manitoba for the 2022 National Aboriginal Hockey Championships!
See the Male and Female Team rosters below.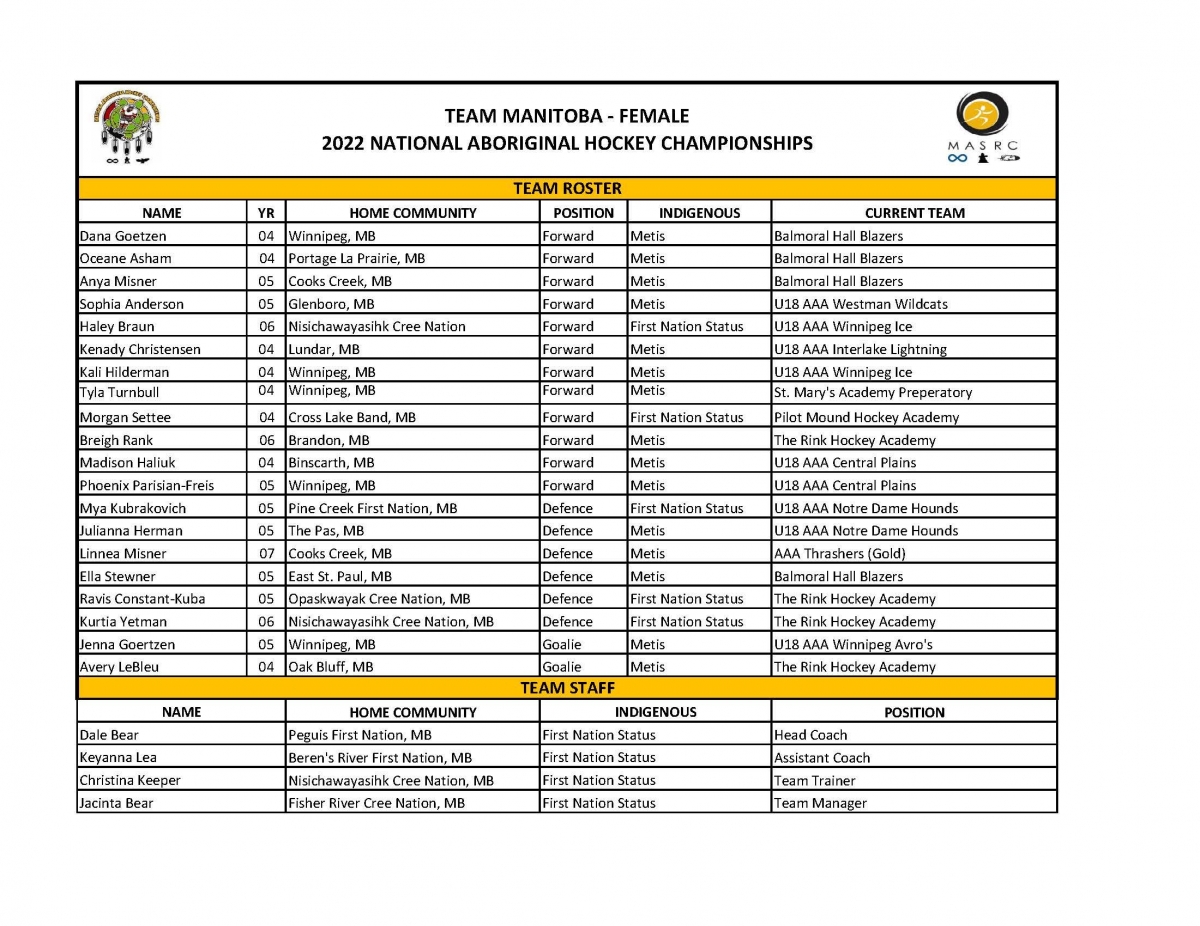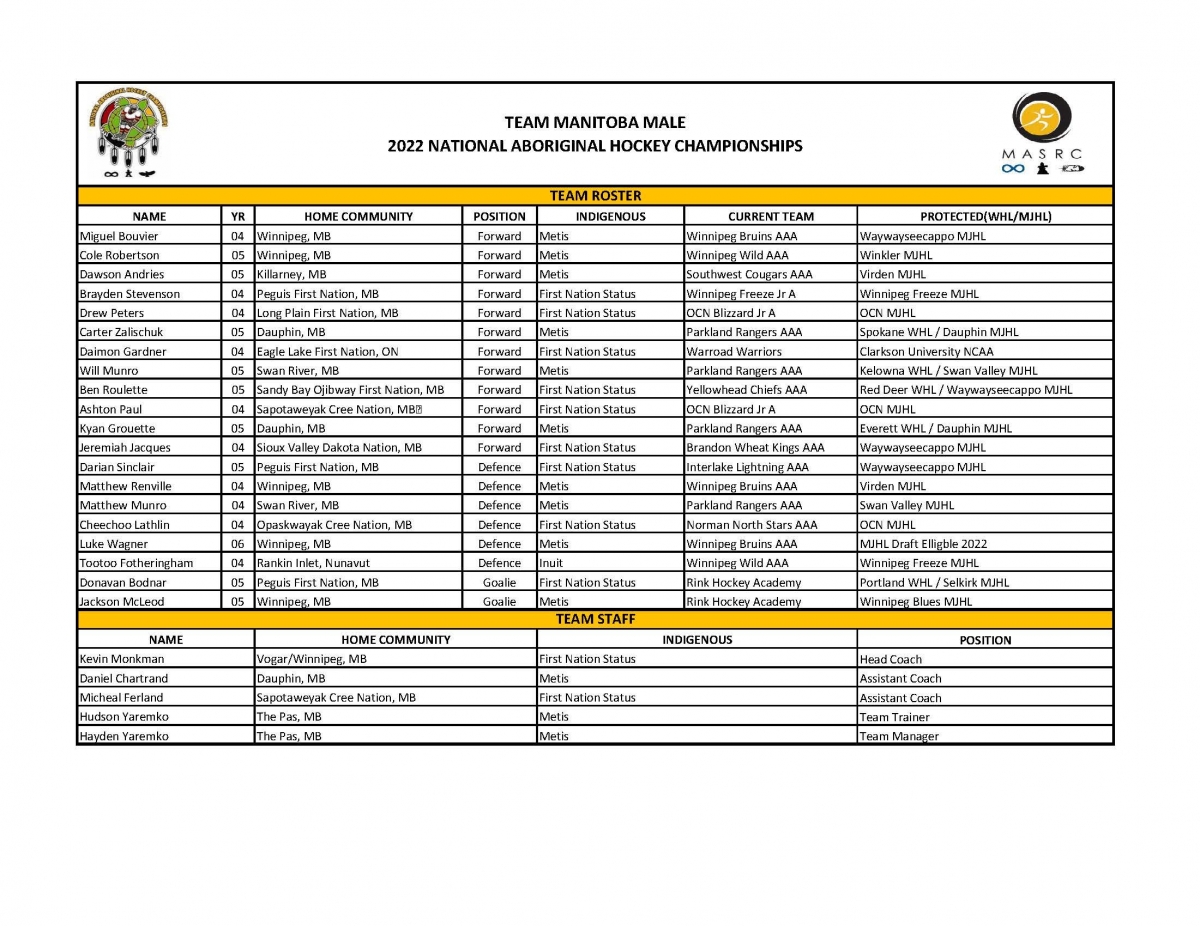 ---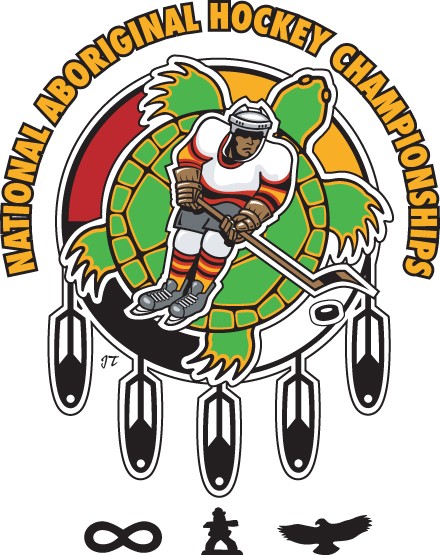 The National Aboriginal Hockey Championship (NAHC) is an annual event that provides a forum for elite Indigenous hockey players throughout Canada.
Team Manitoba is represented by two teams, one male and one female which are both comprised of the bantam and midget age athletes from across Manitoba.
The event aids in fostering cultural unity and pride and celebrates the athletic abilities of Indigenous (First Nations, Métis, Inuit) athletes from across the country. This is great exposure for players to be evaluated by scouts from Canada and the USA, and it gives the participants new skills and experiences that will take them further in hockey, and in life.
This year the NAHC was scheduled to take place in Regina, Saskatchewan in May. Unfortunately, due to COVID-19, NAHC was cancelled along with all other Hockey Canada sanctioned events.
For more NAHC alumni news, click here.
---
NAHC 2022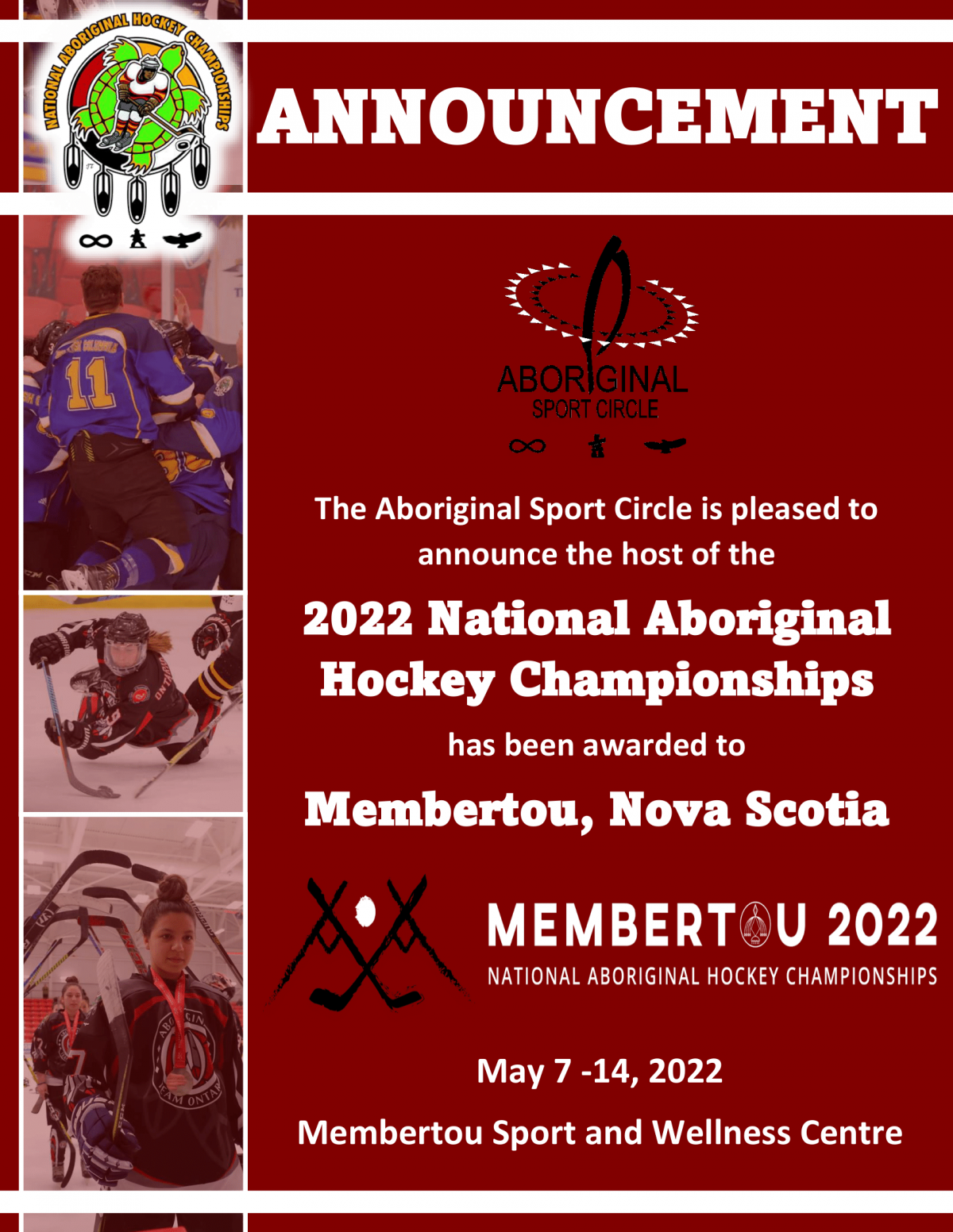 ---
NAHC Rosters
| | | |
| --- | --- | --- |
| 2020 Male | Not played due to COVID-19 | |
| Colby Bear | Peguis First Nation | |
| Jesiah Bennett | Winnipeg (Métis) | |
| Riley Borody | Portage La Prairie (Métis) | |
| Daimon Gardner | Winnipeg (Eagle Lake FN) | |
| Garrett Hrechka | Dauphin (Métis) | |
| Matthew Mason-Vandel | Winnipeg (Peguis FN) | |
| Matthew McLeod | Winnipeg (Métis) | |
| Jayden Perron | Winnipeg (Métis) | |
| Slade Stanick | Rapid City (Métis) | |
| Brayden Stevenson | Peguis (God's Lake FN) | |
| Riley Zimmerman | Winnipeg (Métis) | |
| Logan Clarke | Sagkeeng First Nation | |
| Kieran Cooke | Winnipeg (Métis) | |
| Cheechoo Lathlin | Opaskwayak Cree Nation | |
| Kyle Melo | Lorette (Métis) | |
| Cole Mentuck | Waywayseecappo First Nation | |
| Presley Lester | Winnipeg (Métis) | |
| Donavon Bodnar | Peguis First Nation | |
| Kevin Monkman | Winnipeg (Vogar) | Head Coach |
| Hayden Yaremko | The Pas (Métis) | Assistant Coach |
| Daniel Chartrand | Dauphin (Métis) | Assistant Coach |
| Hudson Yaremko | The Pas (Métis) | Trainer |
| Steven Daniels-Webb | Gunton (Peguis First Nation) | Manager |
| | | |
| --- | --- | --- |
| 2020 Female | Not played due to COVID-19 | |
| Oceane Asham | Portage La Prairie (Métis) | |
| Aliya Baker | Winnipeg (Peguis FN) | |
| Alexandrea Bednar | Vita (Métis) | |
| Madelaine DesRosiers | Grande Pointe (Métis) | |
| Dana Goertzen | Winnipeg (Peguis) | |
| Trinity Grove | St. Andrews (Métis) | |
| Hayley Johnson | Winnipeg (Métis) | |
| Jolyne LeClair | Notre Dame de Lourdes (Métis) | |
| Joie Simon | Flin Flon (Qalipu Mi'kmaq FN) | |
| Tyla Turnbull | Cartier (Métis) | |
| Katie Bassett | Winnipeg (Métis) | |
| Harmony Chicoose | Pilot Mound (Pasqua FN) | |
| Keira Christensen | Winnipeg | |
| Rachel Gottfried | Winnipeg (Métis) | |
| Kali Hilderman | Winnipeg (Métis) | |
| Mya Kubrakovich | Dauphin (Pine Creek FN) | |
| Jenna McLennan | Winnipeg (Métis) | |
| Heaven Moneyas | Winnipeg (Lake St Martin FN) | |
| Avery Lebleu | Oakbluff (Métis) | |
| Dale Bear | Winnipeg (Peguis First Nation) | Head Coach |
| Emily Middagh | Winnipeg (Métis) | Assistant Coach |
| Jacinta Bear | Winnipeg (Fisher River CN) | Manager |
| | | |
| --- | --- | --- |
| 2019 Male | Played in Whitehorse, Yukon | |
| Conner Roulette | Winnipeg (Misipawistik Cree Nation) | |
| Nakodan Greyeyes | Winnipeg (Pinaymootang FN) | |
| Jaegar Lapointe | Ste Rose Du Lac (Metis) | |
| Jayden Pashe | Portage La Prairie (Dakota Tipi FN) | |
| Kobe Campbell | Black River First Nation | |
| Sheldin Howard | Thompson (Metis) | |
| Sequoia Swan | Winnipeg (Chippewas of Nawash) | |
| Matthew McLeod | Winnipeg (Metis) | |
| Colby Bear | Peguis First Nation | |
| Nathan Driver | Winnipeg (Metis) | |
| Evan Herman | The Pas (Metis) | |
| Matthew Mason-Vandel | Winnipeg (Peguis First Nation) | |
| Bryden Sinclair | Peguis First Nation | |
| Branden Hill | The Pas (Metis) | |
| Logan Clarke | Winnipeg (Sagkeeng First Nation) | |
| Ethan McColm | Oakbank (Metis) | |
| Braedin Melsted | Thompson (Metis) | |
| Cole Mentuck | Waywayseecappo First Nation | |
| Kevin Monkman | Winnipeg (Vogar) | Head Coach |
| Daniel Chartrand | Dauphin (Metis) | Assistant Coach |
| Hayden Yaremko | Winnipeg (Metis) | Assistant Coach |
| Steven Daniels-Webb | Gunton (Peguis First Nation) | Manager |
| | | |
| --- | --- | --- |
| 2019 Female | Played in Whitehorse, Yukon | |
| Aliya Baker | Winnipeg | |
| Kaitlyn Bassett | Winnipeg | |
| Emily Daniels | Winnipeg (Peguis First Nation) | |
| Jazmyn Desjarlais | Scanterbury (Brokenhead Ojibway Nation) | |
| Pashen Garrick | Cross Lake Band | |
| Makenzie McCallum | Morden | |
| Kennesha Miswaggon | Cross Lake Band | |
| Shayna Moore | Thompson (Cross Lake Band) | |
| Rachel O'Toole | The Pas | |
| Kaila Powell | Swan River (Norway House Cree Nation) | |
| Carrigan Umpherville | Cross Lake Band | |
| Heaven Moneyas | Winnipeg (Lake St Martin FN) | |
| Charlize Sinclair | Winnipeg (Cross Lake Band) | |
| Joie Simon | Flin Flon (Qalipu Mi'kmaq FN) | |
| Keira Christenson | Winnipeg (Metis) | |
| Hayley Johnson | Winnipeg (Metis) | |
| Dana Goertzen | Winnipeg (Metis) | |
| Breanna McLellan | Winnipeg (Metis) | |
| Madeline DesRosiers | Grande Pointe (Metis) | |
| Dale Bear | Peguis First Nation | Head Coach |
| Lauren Legault | Elie | Assistant Coach |
| Emily Middagh | Winnipeg | Assistant Coach |
| Tina Keeper | Nisichawayasihk Cree Nation | Trainer |
| Jacinta Bear | Fisher River Cree Nation | Manager |
| | | |
| --- | --- | --- |
| 2018 Male | Played in Membertou | |
| Shane Bear | Peguis First Nation | |
| Dylan Fontaine | Brandon (Sagkeeng First Nation) | |
| Kobe Campbell | Black River First Nation | |
| Nakodan Greyeyes | Winnipeg (Pinaymootang First Nation) | |
| Hunter Halcrow | Thompson (Cross Lake Band) | |
| Jacy Kennedy | Winnipeg | |
| Kurtis Luke | Ste Rose du Lac | |
| Ayden Manningway | Peguis First Nation | |
| Brian Mentuck | Waywayseecappo First Nation | |
| Cole Mentuck | Waywayseecappo First Nation | |
| Daytona Moneas | Hollow Water First Nation | |
| Shaydon Mousseau | Winnipeg (Long Plain First Nation) | |
| Keistin Saunders | Norway House (Cross Lake Band) | |
| Seth Ningeongan | Rankin Inlet, NU | |
| Jaden Pashe | Portage la Prairie (Dakota Tipi First Nation) | |
| Conner Roulette | Winnipeg (Misipawistik Cree Nation) | |
| Preston Seymour | Seymourville (Sagkeeng First Nation) | |
| Bryden Sinclair | Peguis First Nation | |
| Adam Swan | Ashern (Lake Manitoba First Nation) | |
| Nick Sharpe | Pine Falls/Sagkeeng | |
| Kevin Monkman | Vogar | Head Coach |
| Taran Lacquette | Dauphin | Asst Coach |
| Daniel Chartrand | Dauphin | Asst Coach |
| Steve Daniels-Webb | Gunton | Manager |
| Kyle Muswagon | Winnipeg (Norway House Cree Naiton) | Trainer |
| | | |
| --- | --- | --- |
| 2018 Female | Played in Membertou | |
| Juliana Albert | Norway House Cree Nation | |
| Aliya Baker | Winnipeg | |
| Kaitlyn Bassett | Winnipeg | |
| Trechelle Bunn | Vassar (Birdtail Sioux First Nation) | |
| Emily Daniels | Winnipeg (Peguis First Nation) | |
| Jazmyn Desjarlais | Scanterbury (Brokenhead Ojibway Nation) | |
| Breanne Dondo | Winnipeg | |
| Pashen Garrick | Cross Lake Band | |
| Mikayla Keeper | Cross Lake Band | |
| Keyanna Lea | Riverton | |
| Keyara Lea | Riverton | |
| Makenzie McCallum | Morden | |
| Saige McKay | Cross Lake Band | |
| Kennesha Miswaggon | Cross Lake Band | |
| Shayna Moore | Thompson (Cross Lake Band) | |
| Rachel O'Toole | The Pas | |
| Kaila Powell | Swan River (Norway House Cree Nation) | |
| Alix Tosh | Beausejour | |
| Carrigan Umpherville | Cross Lake Band | |
| Bianca Zak | Stonewall | |
| Dale Bear | Peguis First Nation | Head Coach |
| Christina (Tina) Keeper | Nisichawayasihk Cree Nation | Asst Coach |
| Lauren Legault | Elie | Asst Coach |
| Jacinta Bear | Fisher River Cree Nation | Manager |
| | | |
| --- | --- | --- |
| 2017 Male | Played in Cowichan, BC | |
| Keeven Daniels-Webb | Gunton (Peguis First Nation) | |
| Mason Martin | Winnipeg | |
| Thomas Mironuk | East St. Paul | |
| Allan Kohli | Winnipeg (Cross Lake Band) | |
| Justin Nachbaur | Cross Lake Band | |
| Adam Swan | Ashern | |
| Preston Seymour | Seymourville (Sagkeeng First Nation) | |
| Griffin Leonard | Winnipeg | |
| Coulson Nepinak | Winnipeg (Skownan First Nation) | |
| Bryce Young | Brandon (Opaskwayak Cree Nation) | |
| Drew Tait-Reaume | Norway House Cree Nation | |
| Dylan Fontaine | Brandon (Sagkeeng First Nation) | |
| Hunter Halcrow | Thompson (Cross Lake Band) | |
| Kurtis Luke | Ste Rose du Lac | |
| McKenna Wombdiska | Griswold (Sioux Valley Dakota Nation) | |
| Brian Mentuck | Waywayseecappo First Nation | |
| Nakodan Greyeyes | Winnipeg (Pinaymootang First Nation) | |
| Shane Bear | Peguis First Nation | |
| Bryden Sinclair | Peguis First Nation | |
| Ethan Daniels | Peguis First Nation | |
| Kevin Monkman | Winnipeg (Vogar) | Head Coach |
| Mike Spence | Peguis First Nation | Asst Coach |
| Daniel Chartrand | Dauphin | Asst Coach |
| Kyle Muswagon | Winnipeg (Norway House Cree Nation) | Trainer |
| Tyler Woodhouse | Peguis First Nation | Manager |
| | | |
| --- | --- | --- |
| 2017 Female | Played in Cowichan, BC | |
| Mallory Harvey | Warren | |
| Haylee Anderson | Rivers | |
| Mariah Gardner | Vassar (Eagle Lake First Nation) | |
| Taylor Tom | Winnipeg (Kenora) | |
| Julie Albert | Norway House Cree Nation | |
| Bianca Zak | Stonewall | |
| Keyanna Lea | Winnipeg (Riverton) | |
| Keyara Lea | Winnipeg (Riverton) | |
| Kennesha Miswaggon | Cross Lake Band | |
| Shayna Moore | Thompson (Cross Lake Band) | |
| Carlin Hamilton | Cross Lake Band | |
| Kellie Munro | Winnipeg | |
| Breanne Dondo | Winnipeg | |
| Emily Daniels | Winnipeg (Peguis First Nation) | |
| Rachel O'Toole | The Pas | |
| Kaila Powell | Swan River (Norway House Cree Nation) | |
| Carrigan Umpherville | Cross Lake Band | |
| Monet Mazawasicuna | Oak Lake (Sioux Valley Dakota Nation) | |
| Dale Bear | Peguis First Nation | Head Coach |
| Christina (Tina) Keeper | Nisichawayasihk Cree Nation | Asst Coach |
| Chantal Hebert | Winnipeg (Notre Dame) | Asst Coach |
| Dr. Lisa Monkman | Vogar | Trainer/Doctor |
| Jacinta Bear | Fisher River Cree Nation | Manager |
| | | |
| --- | --- | --- |
| 2016 Male | Played in Mississauga | |
| Chase Beach-Ducharme | Winnipeg/Vogar | |
| Eric Lavoie | Winnipeg | |
| Josh Tripp | Swan River | |
| Michael Markus | Thompson | |
| Tony Apetagon | Norway House Cree Nation | |
| Vince Gill Scott | Cross Lake Band | |
| Nate Hooper | East St. Paul | |
| Sean Loutit | Selkirk | |
| Tyson Hilderman | Winnipeg | |
| Keith Monias | Cross Lake Band | |
| Kayle Tosh | Beausejour | |
| Keeven Daniels-Webb | Gunton/Peguis First Nation | |
| Kyle Wiltshire | East St. Paul | |
| Mason Martin | Winnipeg | |
| Thomas Mironuk | East St. Paul | |
| Allan Kohli | Winnipeg (Cross Lake Band) | |
| Justin Nachbaur | Cross Lake Band | |
| Rylan Hoffman | Lac du Bonnet | |
| Adam Swan | Ashern | |
| Preston Seymour | Seymourville (Sagkeeng First Nation) | |
| Kevin Monkman | Vogar | Head Coach |
| Mike Spence | Peguis First Nation | Asst Coach |
| Cal Asham | Peguis First Nation | Trainer |
| Desiree Dorion | Dauphin | Manager |
| | | |
| --- | --- | --- |
| 2016 Female | Played in Mississauga | |
| Renee Stevenson | Peguis First Nation | |
| Emily Middagh | Winnipeg | |
| Mackenzie Neapew | Winnipeg (Pine Creek First Nation) | |
| Haylee Anderson | Rivers | |
| Savanna Stevenson | Winnipeg | |
| Trechelle Bunn | Vassar (Birdtail Sioux First Nation) | |
| Julie Albert | Norway House Cree Nation | |
| Bianca Zak | Stonewall | |
| Kennesha Miswagon | Cross Lake Band | |
| Lauren Legault | Elie | |
| Mallory Harvey | Warren | |
| Nicole Whitesell | Winnipeg | |
| Mariah Gardner | Eagle Lake First Nation (Vassar) | |
| Delanie Bruyere | Sagkeeng First Nation | |
| Taylor Tom | Kenora, ON | |
| Keyanna Lea | Riverton | |
| Keyara Lea | Riverton | |
| Skyla Sellner | Winnipeg (Little Saskatchewan FN) | |
| Shayna Moore | Thompson (Cross Lake First Nation) | |
| Dale Bear | Peguis First Nation | Head Coach |
| Christina (Tina) Keeper | Nisichawayasihk Cree Nation | Asst Coach |
| Jasmine Levesque | Winnipeg | Asst Coach |
| Dr. Lisa Monkman | Vogar | Trainer/Doctor |
| Jacinta Bear | Fisher River Cree Nation | Manager |
| | | |
| --- | --- | --- |
| 2015 Male | Played in Halifax | |
| Anthony Keeper Jr. | Cross Lake Band | |
| Ashton Anderson | Rivers | |
| Brandon Mckay | Cross Lake Band | |
| Chase Beach-Ducharme | Winnipeg | |
| Colin Burston | Fisher River Cree Nation | |
| Curtis Beck | Stonewall | |
| Daniel Chartrand | Duck Bay | |
| Daylon Campbell | The Pas | |
| Eric Lavoie | Winnipeg | |
| Hayden Yeremko | The Pas | |
| Jared Thickfoot | Fisher River Cree Nation | |
| Josh Tripp | Swan River | |
| Keesin Richard | Sioux Valley/Sandy Bay | |
| Linden McCorrister | Peguis First Nation | |
| Michael Markus | Thompson | |
| Noah Fournier | Lorette/Nisichawayasihk Cree Nation | |
| Shane Roulette | Misipawistik Cree Nation | |
| Tanner Poker | | |
| Tristin Langan | Swan River | |
| Wyatt Bear | Peguis First Nation | |
| Kevin Monkman | Vogar | Head Coach |
| Wade Houle | Dauphin | Asst Coach |
| Cal Asham | Peguis First Nation | Trainer |
| Jacinta Bear | Fisher River Cree Nation | Manager |
| | | |
| --- | --- | --- |
| 2015 Female | Played in Halifax | |
| Julie Albert | Norway House Cree Nation | |
| Haylee Anderson | Rivers | |
| Shelby Audet | Winnipeg (Chemawawin Cree Nation) | |
| Alyssa Bertholet | The Pas | |
| Trechelle Bunn | Vassar (Birdtail Sioux First Nation) | |
| Nicole Chartrand | Winnipeg | |
| Destyni Chiborak | Winnipeg | |
| Kenidi Longclaws | Waywayseecappo First Nation | |
| Alexis Manningway | Peguis First Nation | |
| Emily Middagh | Winnipeg | |
| Ashley Murphy | The Pas | |
| Mackenzie Neapew | Winnipeg(Pine Creek First Nation) | |
| Madison Neapew | Winnipeg(Pine Creek First Nation) | |
| Rachel O'Toole | The Pas | |
| Nicole Poker | Norway House Cree Nation | |
| Savanna Stevenson | Winnipeg | |
| Renee Stevenson | Peguis First Nation | |
| Kerri-Anne Sweeny | Thompson | |
| Simone Turner-Cummer | Carmen | |
| Bianca Zak | Stonewall | |
| Dale Bear | Peguis First Nation | Head Coach |
| Christina (Tina) Keeper | Nisichawayasihk Cree Nation | Asst Coach |
| Kali Leary | Norway House Cree Nation | Asst Coach |
| Dr. Lisa Monkman | Vogar | Trainer/Doctor |
| Lynette Kryminski | Cross Lake Band | Manager |
| | | |
| --- | --- | --- |
| 2014 Male | Played in Kahnawake | |
| Tristen Beach-Ducharme | Winnipeg | |
| Wyatt Bear-Favel | Peguis First Nation | |
| Blaze Bezecki | Sagkeeng First Nation | |
| Colin Burston | Fisher River Cree Nation | |
| Daniel Chartrand | Duck Bay | |
| Brody Claeys | Ste Rose du Lac | |
| Jared Courchene | Sagkeeng First Nation | |
| Rick Frechette | Yellow Quill First Nation | |
| Shaquille Houle | Ebb & Flow First Nation | |
| Anthony Keeper | Cross Lake Band | |
| Brady Keeper | Cross Lake Band | |
| Tristan Langan | Swan River | |
| Linden McCorrister | Peguis First Nation | |
| Romano Paul | Lake Manitoba First Nation | |
| Shane Roulette | Misipawistik Cree Nation | |
| Tristen Slater-Murdock | Peguis First Nation | |
| Jarrod Smith | Pinaymootang First Nation | |
| Joshua Tripp | Swan River | |
| Zachary Whitecloud | Sioux Valley First Nation | |
| Ethan Williams | Peguis First Nation | |
| Kevin Monkman | Ebb & Flow First Nation | Head Coach |
| Michael Hunt | Winnipeg | Assistant Coach |
| Edward (Sonny) Albert | Norway House Cree Nation | Assistant Coach |
| Cal Asham | Peguis First Nation | Trainer |
| Alisha Carlson | Powerview | Manager |
| Mel Whitesell | Winnipeg (Penticton, BC) | General Manager |
| | | |
| --- | --- | --- |
| 2014 Female | Played in Kahnawake | |
| Julianna Albert | Norway House | |
| Aprel Assiniboine | Long Plain First Nation | |
| Alyssa Bertholet | The Pas (Moose Lake) | |
| Trechelle Bunn | Birdtail Sioux First Nation | |
| Destyni Chiborak | Winnipeg | |
| Gabrielle Desrochers | Winnipeg | |
| Julie Desrochers | Winnipeg | |
| Vanessa Klimpke | Rosseau River First Nation | |
| Mackenzie Neapew | Pine Creek | |
| Madison Neapew | Pine Creek | |
| Renee Stevenson | Peguis First Nation | |
| Nicole Chartrand | Winnipeg | |
| Alyssa Cochrane | Fisher River Cree Nation | |
| Lynette Kryminski | Cross Lake Band | |
| Aliesha Lipscomb | Winnipeg | |
| Ashley Murphy | The Pas | |
| Nicole Poker | Norway House Cree Nation | |
| Roxane Desrochers | Winnipeg | |
| Laura-Lee Letandre | Little Saskatchewan First Nation | |
| Dale Bear | Peguis First Nation | Head Coach |
| Christina (Tina) Keeper | Nisichawayasihk Cree Nation | Asst Coach |
| Kali Leary | Norway House Cree Nation | Asst Coach |
| Jacinta Bear | Fisher River Cree Nation | Manager |
| Mel Whitesell | Winnipeg (Penticton, BC) | General Manager |
| | | |
| --- | --- | --- |
| 2013 Male | Played in Kahnawake | |
| Brendan Barron | Thopmson, MB | |
| Robert Briem | Cross Lake Band | |
| Colin Burston | Fisher River Cree Nation | |
| Matthew Cameron | Peguis First Nation | |
| Daniel Chartrand | Duck Bay | |
| Christian Cochrane | Pguis First Nation | |
| Ryan Gardiner | Norway House Cree Nation | |
| Michael Harper | Peguis First Nation | |
| Bruce Highway | Thompson | |
| Taran Lacquette | Mallard | |
| Comacho Lathlin | Opaskwayak Cree Nation | |
| Kamerin Nault | Fisher Branch | |
| Waylon Nault | Fisher Branch | |
| Zac Robidoux | Morden | |
| Donovan Ross | Norway House Cree Nation | |
| Shane Roulette | Misipawistik Cree Nation | |
| Joey Sutherland | Peguis First Nation | |
| Dominic Swenarchuk | Brokenhead Ojibway Nation | |
| Keifer Tacan | Sioux Valley Dakota Nation | |
| Donovin Tanner | Waywayseecappo First Nation | |
| Montana Tanner | Waywayseecappo First Nation | |
| Ethan Williams | Peguis First Nation | |
| Ryan Cook | Misipawistik Cree Nation | Head Coach |
| Jeff Bousquet | Winnipeg | Assistant Coach |
| Kelly Fontaine | Sagkeeng First Nation | Assistant Coach |
| Cal Asham | Peguis First Nation | Trainer |
| Robin Lundie | Misipawistik Cree Nation | Manager |
| | | |
| --- | --- | --- |
| 2013 Female | Played in Kahnawake | |
| Lynette Kryminski | Cross Lake Band | |
| Jessica Bousquet | Winnipeg | |
| Julie Desrochers | Winnipeg | |
| Vanessa Carriere | Winnipeg | |
| Nicole Poker | Norway House Cree Nation | |
| Cheyenne Davis | Winnipeg | |
| Aislin Kooistra | | |
| Renee Stevenson | Winnipeg | |
| Shelby Audet | Chemawawin | |
| Kenzie Tripp | Winnipeg | |
| Aliesha Lipscomb | Winnipeg | |
| Aprel Assiniboine | Long Plain First Nation | |
| Chanelle Arthurson | Gillam | |
| Janelle Chartrand | Winnipeg | |
| Abigail Constant-Bercier | Opaskwayak Cree Nation | |
| Tegan Tosh | Beausejour | |
| Ashley Murphey | The Pas | |
| Roxane Desrochers | Winnipeg | |
| Alexis Manningway | Peguis First Nation | |
| Alyssa Bertholet | The Pas | |
| Chantal Larocque | St Anne | Head Coach |
| Christina Keeper | Nisichawayasihk Cree Nation | Assistant Coach |
| Dale Bear | Peguis First Nation | Assistant Coach |
| Jacinta Bear | Fisher River Cree Nation | Manager |
| | | |
| --- | --- | --- |
| 2012 Male | Played in Saskatoon | |
| Joseph Sutherland | Peguis First Nation | |
| Tyndall Fontaine | Sagkeeng First Nation | |
| Andrew Antsanen | Northlands Denesuline | |
| Brady Constant | Opaskwayak Cree Nation | |
| Edward Bayer | War Lake | |
| Comacho Lathlin | Opaskwayak Cree Nation | |
| Robert Breim | Cross Lake | |
| Steven Gott | Sapotayak | |
| Jamison Scott | Cross Lake Band | |
| Sam McKay | Norway House Cree Nation | |
| Daniel Stagg | Killarney | |
| Taran Lacquette | Mallard | |
| Matthew Cameron | Peguis First Nation | |
| Bruce Highway | Thompson | |
| Nicholas Bruyere | Sagkeeng First Nation | |
| Matthew Gamblin | Brandon | |
| Waylon Neault | Fisher Branch | |
| Ethan Williams | Peguis First Nation | |
| Frank Daniels Jr | Sagkeeng First Nation | |
| Zachary Robidoux | Morden | |
| Montana Tanner | Waywayseecappo | |
| Ian Bunn | Opaskwayak Cree Nation | |
| Farron Cochrane | Peguis First Nation | Head Coach |
| Conrad Bear | Peguis First Nation | Assistant Coach |
| Ryan Cook | Winnipeg (Misipawistik Cree Nation) | Assistant Coach |
| Cal Asham | Peguis First Nation | Trainer |
| Cyndi Asham | Peguis First Nation | Manager |
| | | |
| --- | --- | --- |
| 2012 Female | Played in Saskatoon | |
| Jessica Bousquet | Winnipeg | |
| Vanessa Carriere | Winnipeg | |
| Marlee Clarkson | | |
| Cheyenne Davis | Winnipeg | |
| Gabrielle Desrochers | Winnipeg | |
| Julie Desrochers | Winnipeg | |
| Bailee Goodon | Boissevain | |
| Cassandra Hickes | Thompson | |
| Aislin Kooistra | | |
| Lynette Kryminski | Cross Lake | |
| Jocelyn McKay | Norway House Cree Nation | |
| Kadija McLellen | Thompson | |
| Renee Stevenson | Winnipeg | |
| Jocelyn Plouffe | | |
| Nicole Poker | Norway House Cree Nation | |
| Robin Thiessen | | |
| Amber Victor | | |
| Samantha Victor | | |
| Jaymie Leary | Norway House Cree Nation | Head Coach |
| Kali Leary | Norway House Cree Nation | Asst Coach |
| Antoinette Mercredi | Scanterbury | Asst Coach |
| Tara Lacquette | Waterhen (Cote First Nation) | Trainer |
| | | |
| --- | --- | --- |
| 2011 Male | Played in Saskatoon | |
| Aaron Rose | Fisher River Cree Nation | |
| Andrew Antsanen | Northlands Denesuline | |
| Nicholas Munro-Bruyere | Sagkeeng First Nation | |
| Alfred Anderson | Norway House Cree Nation | |
| Zachary Fontaine | Opaskwayak Cree Nation | |
| Joseph Sutherland | Peguis First Nation | |
| Danys Chartrand | Winnipeg | |
| Gordie Gambler | Pine Creek | |
| Ryan Templeton | Thompson | |
| Robert Breim | Cross Lake | |
| Edward Bayer | War Lake | |
| Dylan Favell | Fisher River Cree Nation | |
| Comacho Lathlin | Opaskwayak Cree Nation | |
| Brady Constant | Opaskwayak Cree Nation | |
| Tyndall Fontaine | Sagkeeng First Nation | |
| Darryl Flett Jr | Pine Creek | |
| Theoran Fleury | Opaskwayak Cree Nation | |
| Dylan Hykawy | Thompson | |
| Shane Cochrane | Fisher River Cree Nation | |
| Presley Kirkness | Fisher River Cree Nation | |
| Cory Nygaard | Thompson | |
| Conrad Bear | Peguis First Nation | Head Coach/GM |
| Farron Cochrane | Peguis First Nation | Assistant Coach |
| Michael Spence | Peguis First Nation | Assistant Coach |
| Cal Asham | Peguis First Nation | Trainer |
| | | |
| --- | --- | --- |
| 2011 Female | Played in Saskatoon | |
| Cassandra Hickes | Thompson | |
| Gabrielle Desrochers | Winnipeg | |
| Darion Bruyere | Pine Falls (Sagkeeng First Nation) | |
| Lynette Kryminski | Cross Lake | |
| Mary Rose Kilabuk | Pangnirtung, Nu | |
| Jessica Bousquet | Winnipeg | |
| Antoinette Mercredi | Scanterbury | |
| Tiffany Siusangnark | Repulse Bay, Nu | |
| Julie Desrochers | Winnipeg | |
| Bailee Goodon | Boissevain | |
| Vanessa Carriere | Winnipeg | |
| Kadija McLellen | Thompson | |
| Cheyenne Davis | Winnipeg | |
| Abigail Constant-Bercier | Opaskwayak Cree Nation | |
| Renee Stevenson | Winnipeg | |
| Pamela McLeod | Gillam (Cross Lake Band) | |
| Abby Cathcart | Neepawa | |
| Jaymie Leary | Norway House Cree Nation | Head Coach |
| Kali Leary | Norway House Cree Nation | Asst Coach |
| Nitanis leary | Norway House Cree Nation | Asst Coach/Manager |
| | | |
| --- | --- | --- |
| 2010 Male | Played in Ottawa | |
| Jaron Campbell | The Pas | |
| Danys Chartrand | Winnipeg | |
| Ralph Cochrane | Peguis First Nation | |
| Theoren (TJ) Constant | Opaskwayak Cree Nation | |
| Brady Constant | Opaskwayak Cree Nation | |
| Roy Ettawacappo | Norway House Cree Nation | |
| Dylan Favell | Fisher River Cree Nation | |
| Darryl Flett Jr | Crane River | |
| Derek Fontaine | Opaskwayak Cree Nation | |
| Zachary Fontaine | Opaskwayak Cree Nation | |
| Rene Hunter Jr | Ebb & Flow | |
| Dylan Hykawy | Thompson | |
| Presley Kirkness | Fisher River Cree Nation | |
| Tyler McKay | Ebb & Flow | |
| Shane McPherson | Peguis First Nation | |
| Brent Mourisseau | Sagkeeng First Nation | |
| Cole Murdock | Fisher River Cree Nation | |
| Jonathon Asmus-Personius | Opaskwayak Cree Nation | |
| Tanner Quinn | Winnipeg | |
| Bradley Swampy | Opaskwayak Cree Nation | |
| Farron Cochrane | Peguis First Nation | Head Coach/GM |
| Conrad Bear | Peguis First Nation | Assistant Coach |
| Ryan Cook | Winnipeg (Misipawistik Cree Nation) | Assistant Coach |
| Cal Asham | Peguis First Nation | Trainer |
| | | |
| --- | --- | --- |
| 2010 Female | Played in Ottawa | |
| Rachele Bosc | Dufresne | |
| Darion Bruyere | Pine Falls (Sagkeeng First Nation) | |
| Kayla Chomokovsky | Great Falls | |
| Abby Constant-Bercier | Opaskwayak Cree Nation | |
| Julie Desrochers | Winnipeg | |
| Autimn Garnham | Portage la Prairie | |
| Skye Kelly | Brandon | |
| Riki Krentz | Steinbach | |
| Brigette Lacquette | Waterhen (Cote First Nation) | |
| Brooklyn Langlois | Steinbach | |
| Karen Larson | Blumenort | |
| Lynn Larson | Blumenort | |
| Chantal Lischynski | Arnaud | |
| Dee-Ana Marion | Winnipeg | |
| Pamele McLeod | Gillam (Cross Lake Band) | |
| Lesley St.Godard | East St. Paul | |
| Jessica Stott | Niverville | |
| Tori Williams | The Pas | |
| Peter Symchuk | Pinawa | Head Coach |
| Tara Lacquette | Waterhen (Cote First Nation) | Manager |
| Nicole Larson | Blumenort | Asst Coach |
| Denise Lischynski | Arnaud | General Manager |
| | | |
| --- | --- | --- |
| 2009 Male | Played in Winnipeg | |
| BEARDY, Jordan | Dauphin River | |
| BRUYERE, Dustin | Sagkeeng First Nation | |
| COCHRANE, Ralph | Peguis First Nation | |
| ETTAWACAPPO, Roy | Norway House Cree Nation | |
| FERLAND, Mike | Brandon | |
| FOLSTER, Wayne | Norway House Cree Nation | |
| HUNTER, Rene | Ebb & Flow | |
| LANDRY, Pierre | Winnipeg | |
| LAWRENCE, Doug | Portage la Prairie | |
| LESLIE, Lorne | Nelson House | |
| MALCOLM, Justin | Winnipeg | |
| MCKAY, Kjon | Wabowden | |
| MCKAY, Tyler | Ebb & Flow | |
| MERASTY, Shaquille | Minnedosa | |
| MURDOCK, Cole | Fisher River Cree Nation | |
| PRINCE, Kelly | Brandon | |
| SINCLAIR, Chris | Peguis First Nation | |
| SPENCE, Neil | Peguis First Nation | |
| SUTHERLAND, Spencer | Peguis First Nation | |
| SWAMPY, Brad | Opaskwayak Cree Nation | |
| TAIT-REAUME, Skylar | Norway House Cree Nation | |
| NYGAARD, Cory | Thompson | |
| DELORME, Ryan | Opaskwayak Cree Nation | |
| POIRIER, Kent | La Salle | |
| Farron Cochrane | Peguis First Nation | Head Coach |
| Conrad Bear | Peguis First Nation | Asst. Coach |
| Scott Cameron | Peguis First Nation | Goal Coach |
| Ryan Cook | Winnipeg (Misipawistik Cree Nation) | Asst. Coach |
| Calvin Asham | Peguis First Nation | Trainer |
| Mike Sutherland | Peguis First Nation | Manager |
| | | |
| --- | --- | --- |
| 2009 Female | Played in Winnipeg | |
| Rachele Bosc | Dufresne | |
| Darion Bruyere | Pine Falls | |
| Sydney Burghardt | Winnipeg | |
| Kayla Chomokovski | Great Falls | |
| Nikita Didychuk | Winnipeg | |
| Kristine Grenier | St Leon | |
| Danica Knockaert | Winnipeg | |
| Lynne Larson | Blumenort | |
| Karen Larson | Blumenort | |
| Sara Roncin | McCreary | |
| Autumn Garnham | Portage | |
| Brigette Lacquette | Waterhen (Cote First Nation) | |
| Jasmine Levesque | Winnipeg | |
| Laurel Nychyporuk | Thompson | |
| Leslie St-Godard | Winnipeg | |
| Korrie Watt | Iles des Chenes | |
| Tori Williams | The Pas | |
| Tara Lacquette | Waterhen (Cote First Nation) | |
| Dee-Ana Marion | Winnipeg | |
| Bev Drobot | Winnipeg | Coach |
| Peter Symchuk | Pinawa | Head Coach |
| Alice Swampy | Pine Falls | Asst Coach |
| Nicky Larson | Blumnort | Asst Coach |
| Natashia Moody | Winnipeg (Nisichawayasihk Cree Nation) | Asst Coach |
| Carla Taylor | Winnipeg | Trainer |
| | | |
| --- | --- | --- |
| 2008 Male | Played in Sault Ste Marie | |
| Brad Swampy | Opaskwayak Cree Nation | |
| Brent Wilson | Norway House Cree Nation | |
| Brett Gagnon | | |
| Brock Appleyard | | |
| Chris Carver | | |
| Cramer Coulthart | | |
| Derek Fontaine | Opaskwayak Cree Nation | |
| Derek Gagnon | | |
| Doug Mcleod | Cross Lake Band | |
| Dustin Bruyere | Sagkeeng First Nation | |
| Evan Laye | | |
| Jonathon Mowat | Norway House Cree Nation | |
| Jordan Beardy | Dauphin River | |
| Jordan Dreger | | |
| Jordan Smith | Hollow Water | |
| Kelly Prince | Long Plains | |
| Pierre Landry | | |
| Ralph Cochrane | Peguis First Nation | |
| Shaquille Merasty | Berrens River | |
| TJ Constant | Opaskwayak Cree Nation | |
| Wade Beardy | Split Lake | |
| Derek Fontaine | Sagkeeng First Nation | Head Coach |
| Travis Cloud | | Asst Coach |
| Darrell Bauer | | Manager |
| Cal Asham | Peguis First Nation | Trainer |
| | | |
| --- | --- | --- |
| 2008 Female | Played in Sault Ste Marie | |
| Sara Roncin | McCreary | |
| Samantha Mackay | Winnipeg Beach | |
| Jasmine Levesque | Winnipeg | |
| Dee-Ann Marion | Winnipeg | |
| Nikita Didychuk | Winnipeg | |
| Robyn Goodwin | Winnipeg | |
| Darion Bruyere | Pine Falls | |
| Tori Williams | The Pas | |
| Kayla Chomokovski | Great Falls | |
| Brittany Charette | Winnipeg | |
| Lynne Larson | Blumenort | |
| Karen Larson | Blumenort | |
| Rachelle Bosc | Dufresne | |
| Felicia Prise | Gimli | |
| Ashley Potvin | St. Laurant | |
| Brigette Lacquette | Waterhen (Cote First Nation) | |
| Leslie St-Godard | Winnipeg | |
| Laurel Nychyporuk | Thompson | |
| Tara Lacquette | Waterhen (Cote First Nation) | |
| Tessa Joy Monias | Cross Lake | |
| Bev Drobot | Winnipeg | Head Coach |
| Alice Swampy | Pine Falls | Asst. Coach |
| Carla Taylor | Winnipeg | Trainer |
| Peter Symchuk | Pinawa | Manager |
| | | |
| --- | --- | --- |
| 2007 Male | Played in Prince Albert | |
| Jordon Smith | Dauphin | |
| Derrick Sinclair | Peguis First Nation | |
| Doug Mcleod | Thompson | |
| Spencer Sutherland | Dallas | |
| Wade Beardy | Split Lake | |
| Eli Halcrow | Cross Lake Band | |
| Justin Ducharme | The Pas | |
| Kevin Braun | Wabowden | |
| Kevin Genaille | Sapotawayak | |
| Jessie Dumas | South Indian Lake | |
| Chris Carver* | Scanterbury | |
| Walter Mecredie | Peguis First Nation | |
| Stephan Bruyere | Fort Alexander | |
| Marshal prince JR. | Long Plains | |
| Myles Stevens | Norway House Cree Nation | |
| Preston Mcleod | Gillam | |
| Cody Ballard | Churchill | |
| Clem Courchene | Sagkeeng First Nation | |
| Jonathon Mowat | Norway House Cree Nation | |
| Tyrone Halcrow | Cross Lake Band | |
| Ashoka Subodar | Winnipeg | |
| Brent Wilson | Brandon | |
| Jordon Sinclair | Opaskwayak Cree Nation | |
| Derek Fontaine | Sagkeeng First Nation | Head Coach |
| Darrell Bauer | | Asst Coach |
| Travis Cloud | | Asst Coach |
| Cal Asham | Peguis First Nation | Trainer |
| | | |
| --- | --- | --- |
| 2007 Female | Played in Prince Albert | |
| Alice Swampy | Pine Falls | |
| Shannon L'Heureux | Winnipeg | |
| Samantha Mackay | Winnipeg Beach | |
| Darion Bruyere | Pine Falls | |
| Jacqueline Mercredi | Portage La Prairie | |
| Leslie Sinclair | Cross Lake Band | |
| Ashley Potvin | St Laurant | |
| Courtney Lagasse' | St Adolphe | |
| Tori Williams | The Pas | |
| Danielle McGurry | Winnipeg | |
| Kayla Chomokowski | Great Falls | |
| Antoinette Mercredi | Portage La Prairie | |
| Phylisha McLeod | Gillam | |
| Stacie Kashuba | East St Paul | |
| Robyn Goodwin | Winnipeg | |
| Nikita Didychuk | Winnipeg | |
| Tara Lacquette | Waterhen (Cote First Nation) | |
| Brigette Lacquette | Waterhen (Cote First Nation) | |
| Tina Keeper | Winnipeg | |
| Tessa Joy Monias | Cross Lake Band | |
| Peter Symchuk | Pinewa | Head Coach |
| Bev Drobot | Winnipeg | Asst Coach |
| Linda McPherson | | Asst Coach |
| Carla Taylor | Winnipeg | Trainer |
| | | |
| --- | --- | --- |
| 2006 Male | Played in Kahnawake | |
| Tyrone Halcrow | Cross Lake Band | |
| James Beebe-Brand | Thompson | |
| Byron Scatch | Cross Lake Band | |
| Tristan Chartrand | Peguis First Nation | |
| Shelby Barron | Winnipeg | |
| Marcel Fontaine | The Pas | |
| Ross Dillabough | Winnipeg | |
| Jesse Dumas | South Indian Lake | |
| Daniel Campeau | Winnipeg | |
| Kevin Genaille | Sapotawayak | |
| Sonny Albert | Norway House Cree Nation | |
| Miles Stevens | | |
| Preston Mcleod | Gilliam /Cross Lake | |
| James Compton | Winnipeg | |
| Harley Garrioch | Cross Lake Band | |
| Dwight Beardy | Split Lake | |
| Leslie Thomas | South Indian Lake | |
| Jordon Smith | Swan River | |
| Jordon Sinclair | Thompson | |
| Edward Lathlin | Opaskwayak Cree Nation | |
| Brian Barron | | Head Coach |
| Jim Flett | | Asst Coach |
| Cal Asham | Peguis First Nation | Trainer |
| Darryl Bauer | | Manager |
| | | |
| --- | --- | --- |
| 2006 Female | Played in Kahnawake | |
| Alice Swampy | Sagkeeng First Nation | |
| Shannon L'Heureux | Winnipeg | |
| Samantha Mackay | | |
| Ashley Potvin | St Laurent | |
| Antionette Mercredi | Scanterbury | |
| Alesia Constant | The Pas | |
| Carmella Sinclair | Peguis First Nation | |
| Tessa Joy Monias | Cross Lake Band | |
| Jacqueline Mercredie | Portage la Prairie | |
| Jaime Paterson | Dauphin | |
| Tracy Howse | Winnipeg | |
| Darion Bruyere | Pine Falls | |
| Danielle McGurry | Winnipeg | |
| Leslie Sinclair | Cross Lake Band | |
| Phylisha McLeod | Gillam | |
| April Chornoby | Split Lake | |
| Robin Goodwin | Winnipeg | |
| Stephanie Godard | St Georges | |
| Naomi Scott | Cross Lake Band | |
| Peter Symchuk | Pinewa | Head Coach |
| Linda McPherson | | Asst Coach |
| Carla Taylor | Winnipeg | Trainer |
| | | |
| --- | --- | --- |
| 2005 Male | Played in Miramichi | |
| Leslie McKay | Norway House Cree Nation | |
| Sonny (Edward) Albert | Norway House Cree Nation | |
| Harley Garrioch | Cross Lake Band | |
| Robert Mackay | Winnipeg Beach | |
| Gino Garrioch | Cross Lake Band | |
| Jeff Brightnose | Cross Lake Band | |
| Brad Ouskun | War Lake | |
| Vince Sutherland | Peguis First Nation | |
| Neil Stevenson | Peguis First Nation | |
| Trevor Catcheway | Skownan | |
| Mac Albert | Norway House Cree Nation | |
| Shane Highway | Nisichawayasihk Cree Nation | |
| Jeff Hanke | Thompson | |
| Chance Fenner | The Pas | |
| Laurent Ledoux | Chemawawin | |
| Marlon Gardner | Sagkeeng First Nation | |
| Tommy Thomas | Thompson | |
| Kevin McGillivary | Opaskwayak Cree Nation | |
| Trent Spence | Cross Lake Band | |
| Purvis Cromarty | Norway House Cree Nation | |
| Brayden Catcheway | Skownan | |
| Brian Barron | | Head Coach |
| Jim Flett | | Asst Coach |
| Cal Asham | Peguis First Nation | Trainer |
| | | |
| --- | --- | --- |
| 2005 Female | Played in Miramichi | |
| Joni Moore | Norway House Cree Nation | |
| Alesia Constant | The Pas | |
| Stacy Parker | Wabowden | |
| Jocelyne Larocque | Ste Anne | |
| Shannon L'Heureux | Winnipeg | |
| Samantha Mackay | | |
| Nitanis Leary | Norway House Cree Nation | |
| Ashley Day | Ile Des Chenes | |
| Maria Ross | Cross Lake Band | |
| Jamie Paterson | Dauphin | |
| Ashley Potvin | St Laurent | |
| Laronda Constant | Opaskwayak Cree Nation | |
| Jessica Tripp | Swan River | |
| Jenna Leah Spence Fleury | The Pas | |
| Alice Swampy | Sagkeeng First Nation | |
| Antionette Mercredi | Scanterbury | |
| Tina Keeper | Nisichawayasihk Cree Nation | |
| Regan Ironman | Griswold | |
| Vickie Sinclair | Peguis First Nation | |
| Natasha Flett | Split Lake | |
| Jaymie Leary | Norway House Cree Nation | Head Coach/Trainer |
| Linda McPherson | | Asst Coach |
| Garry Houle | | Manager |
| | | | |
| --- | --- | --- | --- |
| 2003 Female | | | |
| Nina Bird | | | |
| Tanya Castel | | | |
| Laronda Constant | Opaskwayak Cree Nation | | |
| Natasha Fleet | Split Lake | | |
| Anne Marie Mathews | | | |
| Karlene McLeod | | | |
| Claudette Mercredi | Portage La Prairie | | |
| Jacqueline Mercredi | Portage La Prairie | | |
| Natasha Moodie | Nisichawayasihk Cree Nation | | |
| Joni Moore | Norway House Cree Nation | | |
| Trisha Murdock | Fisher River Cree Nation | | |
| Cheyenne Osborne | Cross Lake Band | | |
| Stacey Parker | Wabowden | | |
| Jamie Paterson | Dauphin | | |
| Maria Ross | Cross Lake Band | | |
| Sabrina Saunders | Cross Lake Band | | |
| Naomi Scott | Cross Lake Band | | |
| Carmie Sinclair | Fisher River Cree Nation | | |
| Jenna Sinclair | Peguis First Nation | | |
| Stephanie Sinclair | Peguis First Nation | | |
| Vickie Sinclair | Peguis First Nation | | |
| Chrissy Spence | Peguis First Nation | | |
| Chantelle Stevenson | Peguis First Nation | | |
| | | | |
| | | |
| --- | --- | --- |
| 2002 Male | Played in Akwesasne/Cornwall | |
| Julian Guimond | Sagkeeng First Nation | |
| Paul Guimond | Sagkeeng First Nation | |
| Jamie Mousseau | Sandy Bay First Nation | |
| Rick Kozak | Norway House Cree Nation | |
| Don Melnyk | Opaskwayak Cree Nation | |
| Josh Sutherland | Peguis First Nation | |
| Ryan Constant | Opaskwayak Cree Nation | |
| Corey Corchene | Sagkeeng First Nation | |
| Lyle McKay | Fisher River Cree Nation | |
| Tedford McKay | Cross Lake Band | |
| Mervin Garson | Fisher River Cree Nation | |
| Henry Guimond | Sagkeeng First Nation | |
| Terrance McKay | Cross Lake Band | |
| Charlie Karatak | Rankin Inlet, NU | |
| Robert Karatak | Rankin Inlet, NU | |
| Jonathon Trout | Cross Lake Band | |
| Lionel Soloman | Saugeeng First Nation (ON) | |
| Derek Fontaine | Sagkeeng First Nation (OCN) | Head Coach |
| Henry Guimond Sr | Sagkeeng First Nation | Asst Coach |
| Chris Medicine | | Goalie Coach |
| Paul Guimond | Sagkeeng First Nation | Asst Coach |
| Cal Asham | Peguis First Nation | Trainer |
| Mike Sutherland | Peguis First Nation | General Manager |