Sport for Social Development

This is one of our biggest programs! Our Sport for Social Development Program is province-wide, and includes mentorship opportunities, wellness & recreation development, sports programs, and more!
The goal of this program is to utilize the tool of sport and recreation to combat health issues, lower crime rates, increase interest in education, and help create employment training opportunities.
---
We want to help create safe spaces in Winnipeg for urban Indigenous people to have sport and recreation opportunities.
Cycle Indigena Bike Program
About the Cycle Indigena Bike Program
Returning for the fourth year in a row, our Cycle Indigena Urban Indigenous Bike Program is back for another summer!
Through this program, the Manitoba Aboriginal Sports & Recreation Council provides urban Indigenous youth from rural and remote communities now living in Winnipeg for employment or education opportunities with reliable transportation. The bikes are free, and include a fitted helmet and bike lock at no extra cost.
Youth provided with bikes through our program are solely responsible for it's care, and are not allowed to resell, trade-in, or gift the bike to another person.
In this event, the bike will be reported stolen and the bike's owner will be responsible for repaying the full cost of the bike.
Program Eligibility
Applicants must be:
Indigenous (Status First Nations, Metis, and Inuit)
Between the ages of 16-26
From rural or remote communities and now living in Winnipeg
Employed full-time, or in school full-time
Applications
We will be accepting applications starting June 1st, 2023 at 12:00PM CDT. The online form will not be open before then.
Applications will only be accepted via the online form below.
Click here to complete the Urban Indigenous Bike Program Application Form!
For more information, contact:
Sport for Social Development Manager
Robyn Cruz
---
3rd Annual Indigenous Women & Girls Run
This annual event was created in support of our wellness programs for Indigenous women & girls.
Through partnering with Anti-Racism in Sport Winnipeg, Athletics Manitoba, & Immigration Partnership Winnipeg, we were able to expand our annual event and help provide even more opportunities for participation in sports & recreation.
On Saturday, September 23, 2023, join the Manitoba Aboriginal Sports & Recreation Council, Athletics Manitoba, and Anti-Racism In Sport Winnipeg at Kildonan Park to walk, run, and roll in solidarity with Indigenous women and girls, supporting their access to recreational programs.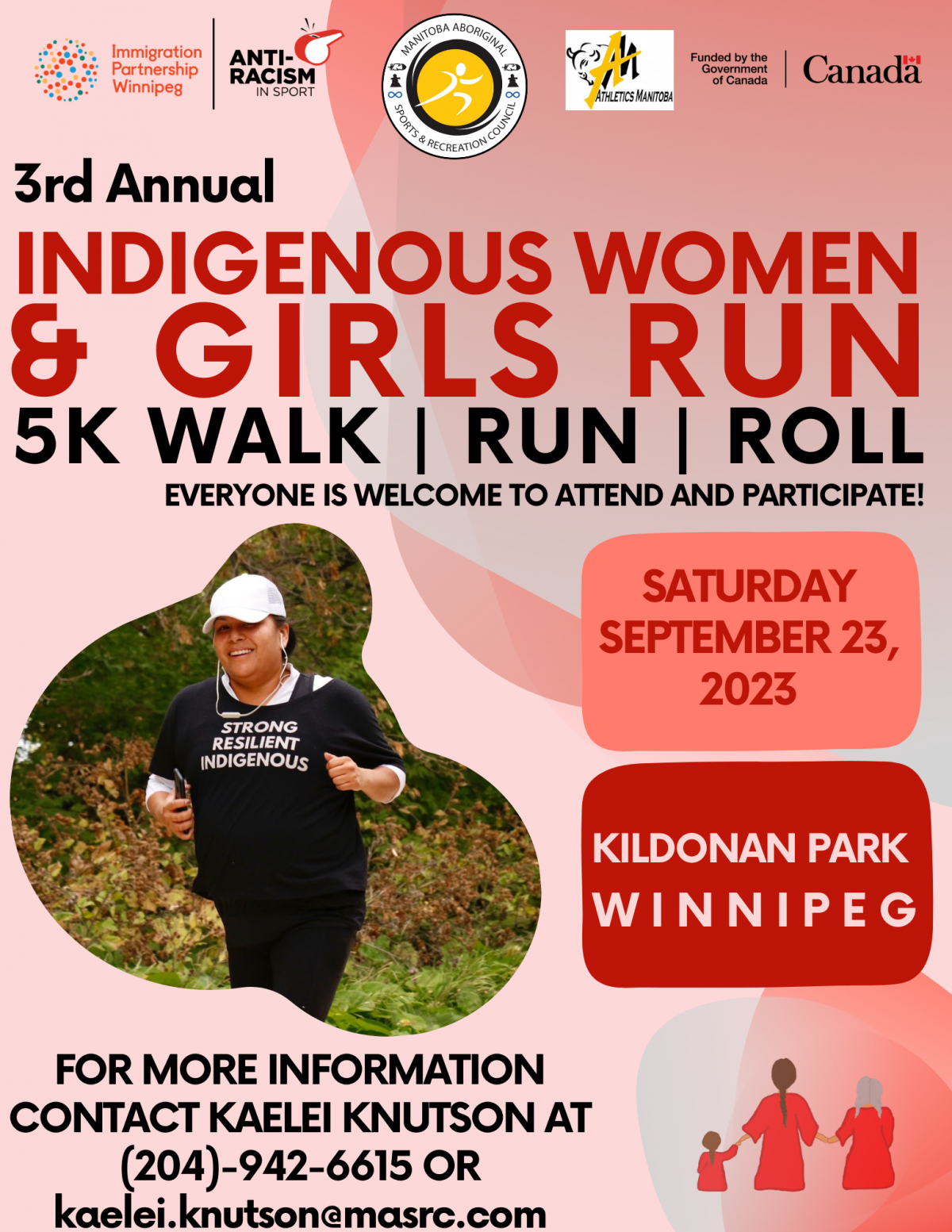 Registration
Registration is now LIVE! Click on the link below to register today.
Indigenous Women & Girls 5km Run Event
Event Information
Early Bird Deadline
September 9th, 2023 at 11:59pm Central Time.
Regular Deadline
September 21st, 2023 at 11:59pm Central Time.
Race Kit Pick-Up Day
September 21st, 2023 between 3:00pm-8:00pm
Race Day
September 23rd, 2023
Check-In Opens
8:00am
Opening Remarks
9:30am
First Wave Begins
10:00am
Contact
For more information, phone Kaelei at 204-942-6615 or email kaelei.knutson@masrc.com.
Click below to view our 2022 Indigenous Women & Girls Run event report.
---
The North End Storm Hockey Program is a community-level hockey program for families living in and around the North End of Winnipeg. U7 (Timbits) & U9 (Novice) teams participate in the Seven Oaks Minor Hockey Association Initiation Programs, while the U11, U13, & 13 teams participate in Hockey Winnipeg's A3 division.
The program is open to both Indigenous & non-Indigenous youth between the ages of 5 and 15. Through the program, MASRC is able to support families with subsidies, equipment loans, & transportation over the duration of the season.
Registration for the 2022-2023 season has closed.
Registration for community hockey programs in Winnipeg begin in July after school ends min June, and end in mid-October. Teams are able to accept late registrations until December.
To find out about registration dates, make sure you check out our events calendar and subscribe to our email newsletter to be the first to know about upcoming programs!
---
Mentorship Program
Do you have community recreation leaders that need training? Are your leaders tired of always having to leave the community to be trained with information that doesn't help in community? That is EXACTLY why we created this program!
We have hired mentors in sport and recreation facilitation, that are trained and equipped to support your leaders' goals for themselves and the community. The mentorship is simple and adaptable; it consists of:
1-year commitment
At least 3 visits to your community to have meetings, facilitate programs and training/certification
Ongoing long distance support through relationships to plan programs, lessons and events
Sports equipment
Specific training and programs will be chosen by the community. We are here to support your ideas!
*A letter of support from Chief and council governance is needed for this program.
Active SSD Mentorship Communities
The following communities are our current partners; however, MASRC is currently looking for more communities interested in partnering with our Sport for Social Development program.
Click here to request more information about participating in the Mentorship Program in your community.
North
Northwest
Northeast
Southwest
Brandon (Brandon Aboriginal Youth Achievement Centre - BAYAC)
Sioux Valley Dakota Nation
Southeast
Grand Marais
Sagkeeng First Nation
Roseau River First Nation
Interlake
Pinaymootang First Nation
St. Laurent
Non-SSD Community Programs
The Manitoba Aboriginal Sports & Recreation Council wants to support as many community sports & recreation programs as possible. Even if your community is not interested in participating in the SSD Mentorship Program, MASRC can support your sports & recreation programs in many different capacities.
Click here to complete our Community Capacity Checklist
We'll use the collected information to assist in community trip & program planning, and to assist in your community's initiatives if needed!
Click here to complete a Recreation Leader profile
Be added to our contact list of recreation leaders, and be the first to know about program, networking, and training opportunities.
---
Interested in any of the above programs?
Click here to complete the Program Information Request form.
For specific information please contact:
Sport for Social Development Manager
Robyn Cruz
---

We would like to acknowledge the financial support of the Government of Canada through Sport Canada, a branch of the Department of Canadian Heritage.
Visit our events page to stay up-to-date on upcoming events, programs, and community visits!