Sport for Social Development
What We Offer
This is one of our biggest programs! It is a province-wide Mentorship program and an Urban Wellness program. It aims to use sport to combat health issues, crime rates, education interests and employment training opportunities.
---
Mentorship Program
Do you have community recreation leaders that need training? Are your leaders tired of always having to leave the community to be trained with information that doesn't help in community? That is EXACTLY why we created this program!
We have hired three mentors in sport and recreation facilitation, that are trained and equipped to support your leaders' goals for themselves and the community. The mentorship is simple and adaptable; it consists of:
1-year commitment
At least 3 visits to your community to have meetings, run programs and training/certification
Ongoing long distance support through relationships to plan programs, lessons and events
Sports equipment
Specific training and programs will be chosen by the community. We are here to support your ideas!
Interested? Click here to request more information about how to get the Mentorship Program in your community.
*A letter of support from Chief and council or Municipal governance is needed for this program
---
Urban Wellness Program
We want to create and join safe spaces in the city of Winnipeg for the Indigenous population to have sport and recreation options.
---
QUICK REGISTRATION LINKS:
---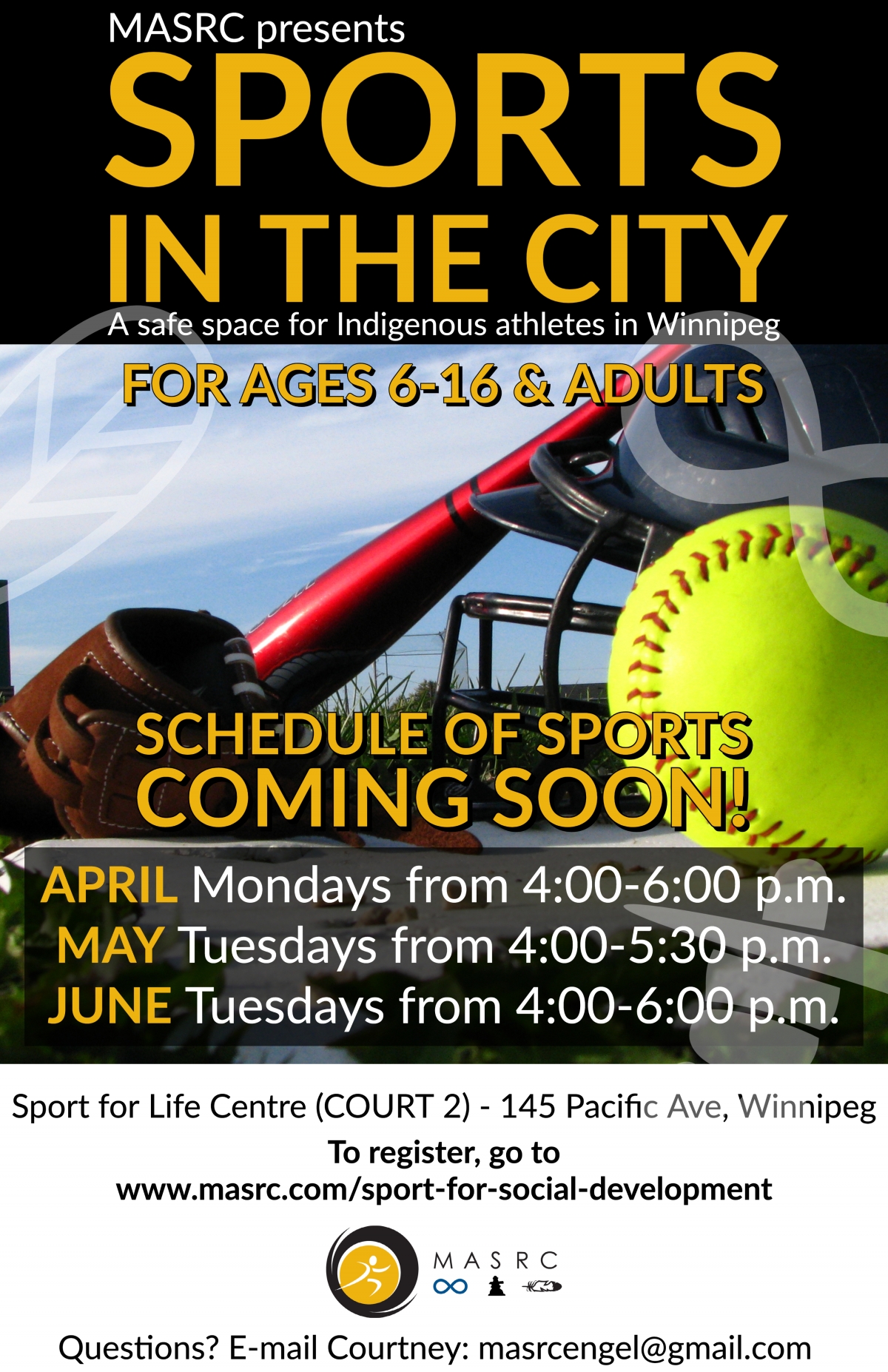 Starting April 12th, 2021, we will be hosting Sports in the City at the Sport for Life Centre in Winnipeg. We are creating a safe space for Indigenous families and athletes to come and play or try different sports. We will be joined by our Provincial sport allies each week to help facilitate the evenings.
For the safety of our facilitators and participants, we will be following Provincial COVID19 guidelines strictly. In order to participate, you must register in advance by clicking here to access the online form. Masks must be worn at all times when in the facility.
---
Join us on Saturday March 27th & April 3rd, 2021, at the Freight House Recreation Centre (Door #3 - 200 Isabel St., Winnipeg) for an afternoon of activities!
Must pre-register prior to attending! CLICK HERE to reserve your time slot.
---
COVID-19 PROTOCOL
We ask that you do not attend if you or anyone in the household is sick or have any of the following symptoms:
fever
dry cough
tiredness
sore throat
diarrhea
conjunctivitis
headache
loss of taste or smell
a rash on skin, or discoloration of fingers or toes
difficulty breathing or shortness of breath
chest pain or pressure
loss of speech or movement
If you've been exposed to anyone who has tested positive for COVID19, please do not attend.
Interested? Click here for any requests, or if you want to be a part of this space!
All programs will be dependent on COVID-19 guidelines and health regulations.
---
Want to stay in the loop?
---

We would like to acknowledge the financial support of the Government of Canada through Sport Canada, a branch of the Department of Canadian Heritage.