Awards
Aboriginal Athlete/Coach/Volunteer of the Year Awards
Each year, the MASRC awards Coach and Athlete honours to deserving Aboriginal coaches and athletes in Manitoba. These awards recognize the skills and abilities of our exceptional male and female coaches and athletes from all across our Province.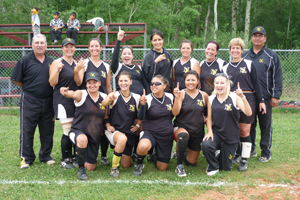 New in 2012 were the Manitoba Aboriginal Volunteer Awards.
The Award recipients are chosen by following a strict set of guidelines and are selected through the Award/Scholarship Selection Committee in conjunction with Sport Manitoba.
Manitoba's male and female "Aboriginal Athlete of the Year" Award winners are recognized at the "Sport for Life" Gala, the annual awards ceremony held by Sport Manitoba each year in April.
Manitoba's Aboriginal Coaching Award winners are recognized at the Annual "Excellence Awards" Brunch held in April of each year hosted by Coaching Manitoba.
At these events, in front of their peers, family and friends, Manitoba's best officially receive recognition to honour their achievements.
Nominate an athlete, coach or volunteer that you see deserving of such a prestigious honour.
Aboriginal Athlete Award Nomination Form
Aboriginal Coach Award Nomination Form
Aboriginal Volunteer Award Nomination Form
For more information about our awards, please contact us at masrcoperations@sportmanitoba.ca
Aboriginal Athlete of the Month Award
The MASRC wants to recognize Indigenous athletes and their outstanding achievements in sport throughout the province. This recognition will be highlighted monthly on all our social media portals. It will go to an individual who has excelled in their respective sport over the past month.
Nomination Criteria
The Athlete of the Month Award is open to Indigenous (First Nation, Inuit, or Métis) athletes who perform solo or as part of a team.
A "team" is defined as a number of persons associated together in an activity. This includes all-star teams and contingents competing in individual disciplines in which there is a recognized team award.
To be eligible, athletes must:

Participate in a sport which is a recognized by an affiliate of MASRC.
Be amateur in status as defined by their provincial sport organizations.
Make their primary residence in Manitoba. Athletes who live temporarily in other locations for educational or training purposes and are products of our organization are also eligible as are athletes who are originally from other provinces provided their primary residence is declared as being from Manitoba.

Nominations are made by coaches, teachers, community members and affiliate members of MASRC.
Nominator is only allowed to nominate one athlete per month.
An athlete may only win this award once per calendar year.
The nomination deadline is the 15 th of every month (January winner will be announced in February, February's winner in March and so on.)
The Awards and Recognition Committee will review all nominations and determine the award recipient. The decisions of the Awards and Recognition Committee are final.
Athlete of the Month Nomination/Application Form
Award
The award recipient will receive a certificate of achievement, a bag of Pânsâwân Dry Meat, and a piece of MASRC swag (Shirt)
The recipient will be announced through a media release containing a photo of the athlete and a brief bio of the athlete and their achievements.
Past Award Recipients
Manitoba Aboriginal Athlete of the Year Award Recipients
1999
Pipon Moose
Multi-sport
2000
Jason Breland
Lauren Melnyk
Baseball
Multi-sport
2001
Jason Loutitt
Distance Running
2002
Wallace Ahmo Jr
Donna Mathieson
Baseball
Golf
2003
Jared Fletcher
Tawny Dillabough
Track & Field
Multi-sport
2004
Garnet Desjarlais
Shelly Hruska
Ball Hockey
Ringette
2005
Justin Sinclair-Paul
Lori Letandre
Basketball
Boxing
2006
Emory Wells
Doris Jones*
Volleyball
Archery
2007
Joey Sutherland
Gazheek Morrisseau-Sinclair
Multi-sport (Hockey, Lacrosse, Fastball)
Softball
2008
Scott Cameron
Alyssa Johnson*
Ball Hockey
Athletics
2009
Josh Ahmo
Brigette Lacquette*
Football
Hockey
2010
Theoren (TJ) Constant
Alyssa Bertholet
Hockey
Multi-sport (Hockey/Athletics)
2011
Kiinnan Stevenson-French
Julie Desrochers
Multi-sport
Hockey
2012
Logan Thacker
Skylar Boulanger
Football
Basketball
2013
Braedan Boschman
Christie Lavallee
Volleyball/Hockey
Archery
2014
Justin Krantz (Co-Winner)
Zach Whitecloud (Co-Winner)
Robyn Boulanger
Athletics
Hockey
Basketball
2015
Malachi Leclerc
Sierra Halldorson
Water Polo
Soccer
2016
Linden McCorrister
Aiyana Hart
Hockey
Multi-Sport
2017
Adam Thompson
Dennita Cameron
Multi-Sport
Multi-Sport
2018

Trey Friesen

Kennesha Miswaggon

Multi-Sport

Hockey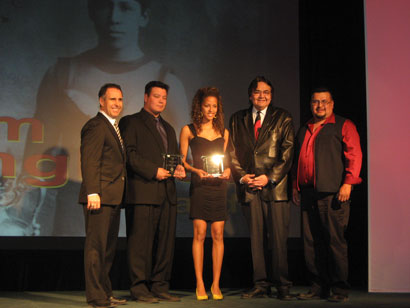 2008 Tom Longboat Award winners Scott Cameron and Alyssa Johnson
*These Athletes also received the prestigious National Aboriginal Athlete Award presented by the Aboriginal Sport Circle.
Manitoba Aboriginal Coach of the Year Award Recipients
1999
Ron Chartrand
Rosalina Haines*
Softball
Multi-sport
2000
Randy LeBleu*
Baseball
2001
Jill Mathez*
Hockey
2002
Roddy Batson*
Maria Moore
Boxing
Canoe
2003
Charlotte Campbell
Special Olympics
2004
Faron Asham*
Baseball
2005
Paul Lagimodiere
Baseball
2006
Omar Constant
Archery
2007
Leonard Woitowicz
Multi-sport (Volleyball, Badminton)
2008
Jim Partaker
Kristy Fewchuk
Athletics
Volleyball
2009
Anthony Mason
Dana Riccio
Volleyball
Basketball
2010
David Ross
Lezley Sutherland
Badminton
Multi-sport (Basketball/Volleyball)
2011
William Hudson
Kali Leary
Hockey
Hockey
2012
Gavin Young
Kelly Chinchilla
Football
Basketball
2013
Farron Cochrane
Trisha Wilson
Hockey
Wrestling
2014
Malcolm Blacksmith
Christina (Tina) Keeper
Lacrosse
Hockey
2015
Kevin Monkman
Nicola Little
Hockey
Softball
2016
David Muswaggon
Jayme Menzies
Softball
Volleyball
2017
Mike Spence
Shawna Spence
Hockey
Softball
2018

Keith Mason

Lezley Sutherland

Basketball

Volleyball
*These Coaches also received the prestigious National Aboriginal Coaching Award presented by the Aboriginal Sport Circle.
Manitoba Aboriginal Volunteer Award Recipients
2011
Doug Daniels
Lois Mercredie
Peguis
Peguis
2012
Dennis Park
Jackie Anderson
Hockey
Basketball
2013
Dale Bear
Hockey
2014
Brian Campbell Jr.
Lezley Sutherland

Multi-Sport
2015
Maurice Meeches
Chelsea McKay
2016
Jamie Lee Mousseau
Celicia Amos
2017
Mike Taylor
Winona Morrison
Multi-Sport
Wrestling
2018

Tristan Dreilich

Marilyn Murdock

Volleyball

Multi-Sport