Female Team Manitoba Announces Roster for 2023 National Aboriginal Hockey Championships in Winnipeg
FOR IMMEDIATE RELEASE
Female Team Manitoba Announces Roster for 2023 National Aboriginal Hockey Championships in Winnipeg
WINNIPEG, MB. (April 27, 2023) - Dale Bear, head coach of Female Team Manitoba is pleased to announce his roster for the 20th Anniversary of the National Aboriginal Hockey Championships.
The 2023 NAHC will convene at the Seven Oaks Sportsplex, 745 Kingsbury Ave., on May 7, 2023, and will continue every day until both male and female champions are crowned on May 13.
Hosted by the Manitoba Host Committee, the event will bring together the finest U18 AAA, Prep School and junior hockey players from across the country, all vying for the right to be called National Champions.
Female Team Manitoba will include some of the finest players in our province including three players - goaltender Rachel Halldorson, forward Anya Misner and defender Ella Stewner - who represented the province with Team Manitoba at the 2023 Canada Winter Games in Prince Edward Island.
There are four players on the team from the Balmoral Hall Blazers of the North America-wide Junior Women's Hockey League - Misner, her sister Linnea, Stewner and the youngest player on the team, forward Braya Kapusta (2008).
There are also four members of the RINK Hockey Academy's female Prep team - Breigh Rank from Brandon, Addison Dyck from Winnipeg, Ravis Constant-Kuba from Opaskawayak Cree Nation and Kurtia Yetman from Nisichawayasihk Cree Nation.
And there are two players from the MFHL U18 AAA Champion Winnipeg Ice - Selene Wozney and Haley Braun. Braun scored the only two goals in the final two games of the championship series, both 1-0 wins by the Ice.
For more information and for interviews contact Team Manitoba coordinator Gabrielle Desrochers at nahc@masrc.com.
THE ROSTER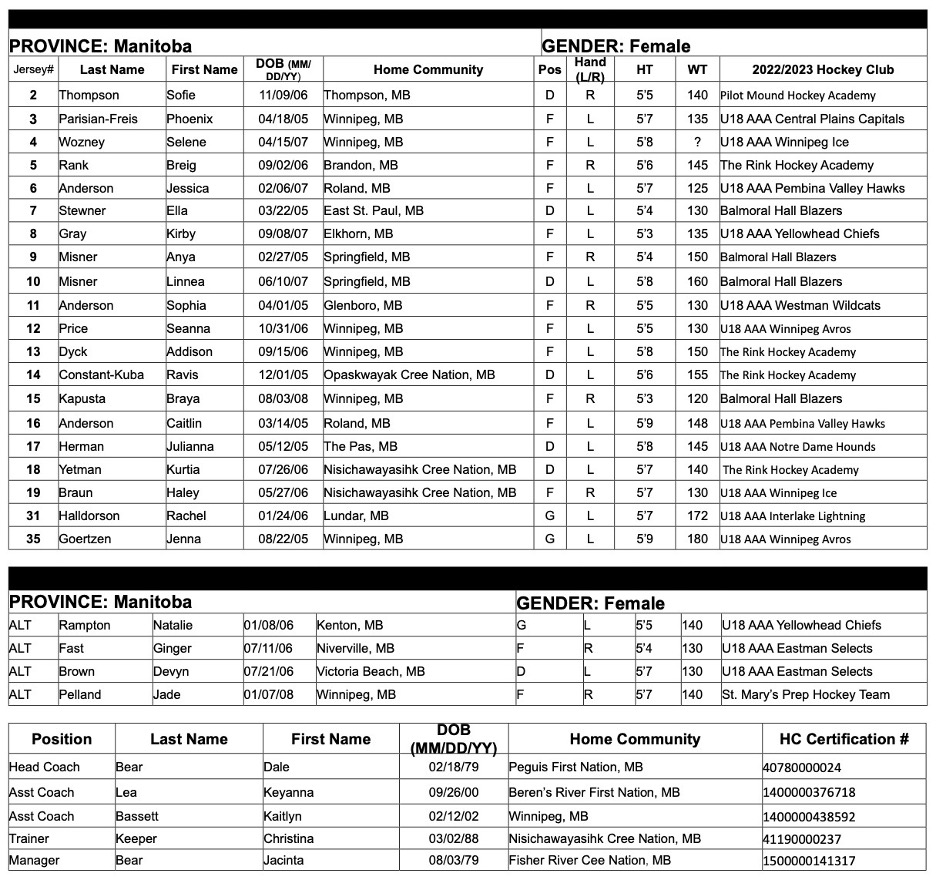 ---