July MASRC Athlete of the Month Announced
July's MASRC Athlete of the Month is...
TARIG AHMED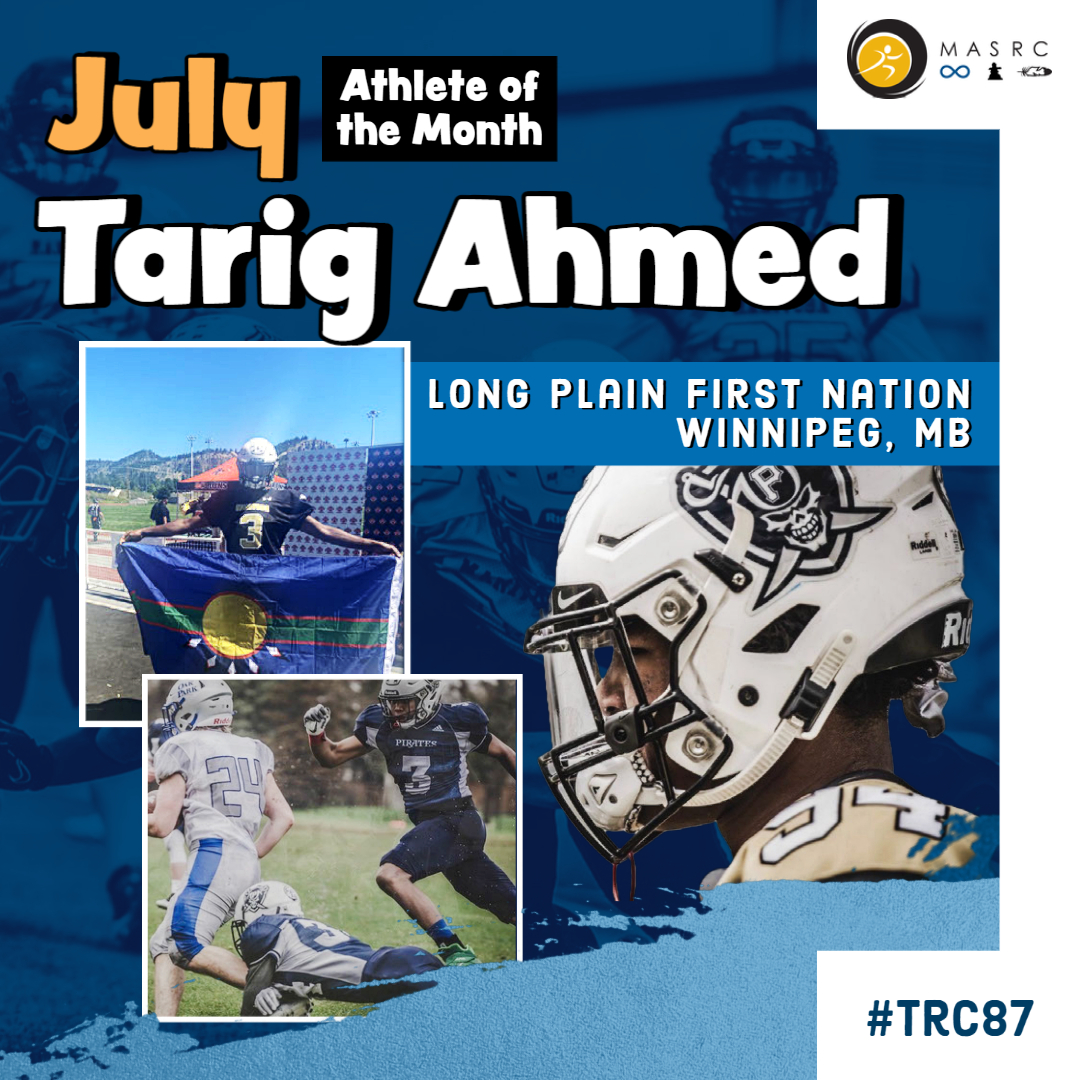 MASRC is proud to announce our July MASRC Athlete of the Month! Tarig Ahmed is a football player from Winnipeg, MB (Long Plain First Nation).
"Tarig Ahmed recently played for Team Manitoba's Under 18 football team at the Canada Cup in Kelowna, British Columbia. At 17 years old, Tarig has been playing football since grade four. He also plays for the Grant Park Pirates in Winnipeg and has the goal of eventually playing football at the professional level. Tarig held the role of defensive end for Team Manitoba, while he plays middle line backer for the Pirates. He is also an avid basketball player and cyclist. In the summer months, he works full time as a bike mechanic.
At the Canada Cup, Tarig's football team played in extreme heat. Tarig expressed this experience was the hardest he's ever been pushed in his life in terms of his athletics and training. It has helped him reaffirm his commitment to pursuing football at a professional level.
Tarig Ahmed is a proud Indigenous teenager who is dedicated to sports. He is one of the top-ranked football players in the Province of Manitoba. Being physically active is very important to Tarig. As a First Nations person, he understands that we face disparities in our health status. Tarig tries to maintain a balanced lifestyle and be active everyday to help increase his chances of staying healthy.
Tarig was very proud to raise the Long Plain First Nation flag on the field at the Apple Dome in Kelowna. He is an intergenerational survivor of the residential school system, the Sixties Scoop, and the child welfare system and he is open to sharing his knowledge and lived reality with his classes to ensure other people learn more--he knows education and knowledge is one key on the road to reconciliation.
Despite the difficulty of confronting racism, Tarig also was able to stand up and voice his complaint when a substitute teacher used the "N" word in class at the end of Black History Month 2022. Tarig's voice has been instrumental in encouraging the principal and school division to consider policies for ensuring there is zero tolerance for racism being perpetuated in the classroom. His actions have also inspired Tarig's mom to push Grant Park leadership (the principal and a resource teacher) to implement an Indigenous Parent Council in the 2022-2023 school year.
Tarig has a kind and funny spirit. He tries to help others and performs random acts of kindness, such as driving around to bus shelters in the winter so his family can deliver meals to people who live in the bus shelters. He also delivers food to single parent families to help them access healthy food. Last summer, there was a crisis in the northern First Nation called Tataskweyak Cree Nation. Tarig was aware of the crisis and helped to gather up numerous bicycles for donation to benefit the youth of Tataskweyak."
-Melanie Ferris, parent
Congrats Tarig! We're looking forward to seeing your future achievements in sport and academics.
To nominate an Athlete of the Month, please click here: Athlete of the Month Nomination Form
Photography by Angela Deneka and Melanie Ferris.
#TRC87
---