Building Relationships - The Story of Cross Lake's Wrestling Team
By Meaghen Fillion
Pimicikamak Territory in Manitoba, also known as Cross Lake First Nation, is located approximately 520 kilometres North of Winnipeg. With an on reserve population of over 6,000, Cross Lake is one of the largest Indigenous communities in Manitoba. It's the home community of NHL player Brady Keeper and many upcoming hockey players like Saige McKay, Carrigan Umpherville and Kennesha Miswaggon. Hockey is a very popular sport in the community, but what most people don't know is that Cross Lake is also the home of Manitoba's largest Indigenous wrestling club.
Leah Ferguson's first trip up to Cross Lake was in March of 2016 as a wrestling facilitator for the Manitoba Aboriginal Sports & Recreation Council (MASRC). This is where she first met Kendall Robinson. Right away it was easy to recognize that there was a lot of talent and it was evident that wrestling had been a part of the community for a long time. "The kids knew how to work hard. They were a little shy at the beginning but once they got going, they knew how to push themselves. They knew how to wrestle to exhaustion and were really impressive athletically." said Leah. Even though the youth were super tired, they kept coming back every night and the participant numbers kept increasing.
Mel Whitesell, the Executive Director for the MASRC, gave Leah the direction to go up to Cross Lake 3 times a year for 2 years. While in the community, Leah got to meet some of the local business owners and one in particular, while Leah was explaining the purpose of her visit, jokingly said something along the lines of "Like yeah if we ever see you again, I guess that'll be cool". This response was eye opening for Leah and she realized how many people must have come into the community as a response to the state of emergency declared surrounding the suicide epidemic, and how many of those people never returned. Leah became very committed to returning to the community and realized that it needed to be her who returned consistently for the next two years. This is how Leah was able to build a significant relationship with Kendall and a few other athletes.
Kendall Robinson first started wrestling in highschool in 2003. Although he joined every sport, except for soccer and basketball, wrestling remained his favourite. Fast forward through his successful athletic career to 5 years later and Kendall decided to give back and become the community's wrestling coach. Kendall's love for the sport and his desire to develop the youth and gain their respect has led to over a decade of coaching and changing lives. Since 2009, Kendall has coached over 100 athletes! When asked about her relationship with Kendall, Leah said "It's been nice to build sport with a friend up North. For me as a high performance athlete, I obviously see building sport in a certain way and Kendall has a different approach and dynamic with the kids. The kids just love when he's on the mat. They think that it's so great. There's truly a high level of trust and care that they know they have with him." It is very important for Kendall, as a coach, to give the youth as many opportunities to compete outside of the community and to experience different levels of training.
One year, Kendall brought his group of wrestlers to Thompson for training and this is where Leah first met Herk Halcrow. "He was crazy athletic and it was his second wrestling practice ever. Herk didn't know anything about wrestling at the time, but when we wrestled it made me nervous that he might score a point because he was so athletic and strong". That night, Herk had a dream about Leah. As he ran around the track, he spotted Leah and she asked him "Do you want to be great?" he replied "Yeah", she said "Well you're going to have to work hard." Since then, Herk committed to the sport and excelled in all aspects of his life. "I saw it as a challenge and I like challenges, so I just went for it." said Herk when asked why he joined wrestling. "Wrestling redirected my life. It became another puzzle piece I was missing". His passion to be great reminds Leah of kids from small towns who, deep down, know they can be great even though they haven't seen that stage or level of success. That year Herk Halcrow got second place at Provincials where he lost against one of the best wrestlers in Manitoba. Past experiences have taught him humility and that it's not about being the best right now, it's about taking these steps and cementing them so he can continue to make progress and won't be taken backwards.
When Dante Beardy first met Leah Ferguson, he was a little bit overweight and eager to learn more about wrestling. "He was a smart kid and always asked the good questions. Every time we would return, he just got fitter and fitter. To see his wrestling IQ grow was insane and you could tell he was interested in the technical aspect of wrestling." said Leah. "Wrestling has made me who I am today. It's hard to put into words. It helped me build my character, taught me how to be humble and to respect others at the beginning and at the end of the match no matter what happens." said Dante. The most admirable quality that Leah sees in Dante is his dedication to improve. "[It] was so cool to see because you actually see sport improving a young person's life in a tangible way. I think that Dante can be a lot like Kendall in terms of building that trust and the fun aspect that kids would probably have with him. He also has that commitment to learn about technique, I think he would be a lifelong learner." From Leah's perspective, a lot of the youth in Cross Lake would demonstrate this style of coaching because of Kendall's influence, that's what he is good at as a coach.
Loryn Evans is evidence of how Kendall's coaching style can unknowingly impact youth through sport. When Leah first met Loryn, she had no idea the kind of relationship it would grow into. Loryn was a super busy kid in a mentorship program and worked. She was trying to get good grades and wanted to go to university. She played all the sports and was trying to figure out a way to be successful at something. "She was wicked independant that way." said Leah. "When I first met Leah I was so starstruck. I still am. I just wanted to be like her. The way she carries herself and her resilience." said Loryn when asked about Leah. A little while later, Loryn and Leah reconnected at RBC Training Grounds in Winnipeg. When talking to Loryn's mother, Leah mentioned the concept of having roommates and how Loryn doesn't have to live alone when she moves to Winnipeg. Loryn's mother understood it as an offer rather than a suggestion. When it came time for Loryn to move to the city, her mother said "Ask that lady! Go live with that lady!". A week before Loryn's first day of university, Loryn contacted Leah to ask if she could live with her. Loryn's been living with Leah and her husband for 3 years now.
Loryn's time in Winnipeg has given her an opportunity to discover her passion for working with little kids. She has become a really great grassroots multi-sport coach through her work with the MASRC and other jobs that involve sport and working with youth. (Loryn has also worked as a Canoe camp instructor and is now working as a youth addictions counsellor in Winnipeg). In her role as an assistant coach for the wrestling team at General Wolfe Junior High School in Winnipeg, she has seen an increase of Indigenous girls come out simply because they saw that there was an Indigenous female coach! It is clear that she is a teacher by nature and has a hard work ethic. She just needed an opportunity.
Working in Cross Lake has become a real reciprocal relationship. "Every time I went, someone would teach me something new or they would remind me of things to keep in mind when I was working with the kids." Leah's relationship with the community of Cross Lake has taught the MASRC as an organization about listening to the community, actually hearing them, and trying to execute what they're passionate about or what they actually want. "They've taught me how to observe and listen. Instead of trying to tell them what a good wrestling program is."
Cross Lake gave the MASRC the opportunity to have an up and coming sports program with a committed coach that the staff can work with and live the organization's mission and mandate. From there, being able to see their team grow at Provincials, seeing them at the Western Canada Games, or winning medals at the North American Indigenous Games, it just showed the organization that returning consistently and finding those key people, no matter what the sport is, and building those relationships is what mattered. Whether it's a biking program in Waywayseecappo, an archery program, or a walking program. "If there is that one consistent leader that we can just build a relationship with, it really can change a generation of youth."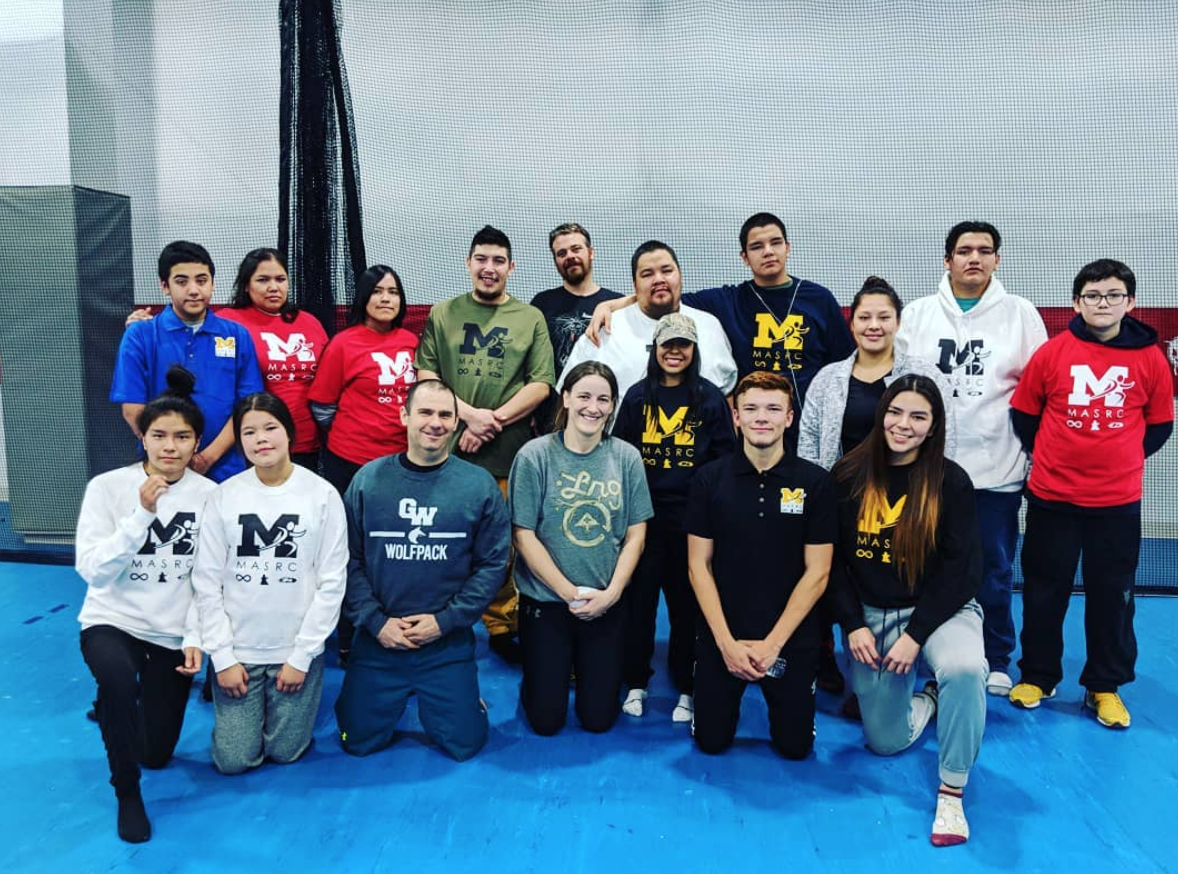 ---
For more TRC87 stories like this one, please click on the links below:
It's Time to Go Back - The Story of Eric Mentuck
Turning "I can't do that!" to "How can I do that?" for Brandon grapplers - The Story of Lisa McMaster
NAIG: A Coach's Ultimate Starting Point - The Story of Mike Taylor
Agoojin: She Hangs in the Sky - The Story of Jayme Menzies
You Just Might Surprise Yourself - The Story of Starlene Keno
Fight Through the Fire - The Story of Noel Harding & the Brandon Boxing Club
Brothers to All - The Will of Two Gives Opportunity to The Children of Cross Lake
---