Cycle Indigena Winnipeg - NOW ACCEPTING APPLICATIONS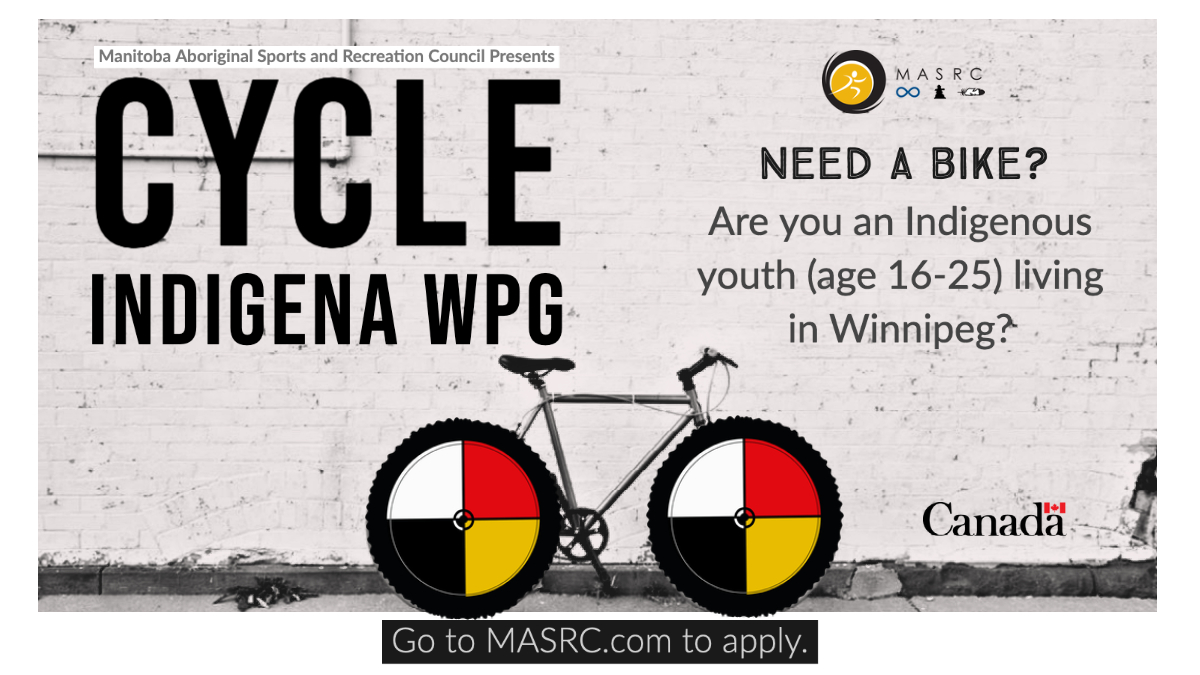 WE ARE ACCEPTING NEW APPLICATIONS!
This program originated from the realization of transportation barriers that Indigenous students face after they have moved from their home community to pursue their studies in the city of Winnipeg. Through discussions with Indigenous students, the MASRC found that they are limited to certain types of transportation and as a result lack a sense of freedom, comfort, and safety in the city of Winnipeg. This also contributes to isolation for the Indigenous students who are not used to living in a busy, fast-paced urban environment.
In order to improve autonomy, comfort and safety in the city of Winnipeg for these students, with the financial support from the Government of Canada, the MASRC has developed an urban bike program named Cycle Indigena Winnipeg. This program will offer bicycles along with accessories to Indigenous youth under the age of 25 (minimum age 16 years old). Having access to a bicycle will allow the Indigenous youth to travel wherever and whenever they want. The MASRC believes that giving Indigenous students access to a mode of active transportation will not only improve physical health, but overall wellbeing.
Please note that successful applicants are required to make necessary arrangements to pick up their bikes. After the participants have received the bicycle, the MASRC is not liable for any stolen property.
If you are an Indigenous youth aged 25 and under (First Nations, Métis, Inuit), a registered student of full/part time worker who lives in Winnipeg, please submit an application by Friday, May 14 2021 (must be a minimum of 16 years old).
How to Apply:
Click here to access the online application.
Click here to download the application form. Please fill out the form, save the document, and send a copy via email to Courtney Engel at masrcengel@gmail.com.
Program Funded By:

---
Do you have a bike to donate?
The WRENCH will gladly take it off your hands!
Your donations of used bikes and parts makes WRENCH programming possible! Through a partnership between the WRENCH and the City of Winnipeg it has never been easier for you to donate bikes 7 days a week at any of the City's 4R Winnipeg Depots:
Brady 4R Winnipeg Depot 1777 Brady Road, south of the Perimeter Highway Weekdays 8am - 8pm. Weekends am - 5pm.
Pacific 4R Winnipeg Depot 1120 Pacific Avenue Weekdays (except Wednesday) 10 am - 6 pm. Weekends 9 am - 5 pm.
Panet 4R Winnipeg Depot 429 Panet Rd Weekdays (except Wednesday) 10 am - 6 pm. Weekends 9 am - 5 pm.
WE ARE UNABLE TO PICK UP DONATIONS OF BICYCLE OR PARTS. -the WRENCH
---