Athlete of the Month June and July 2019
The MASRC wants to recognize Indigenous athletes and their outstanding achievements in sport throughout the province. This recognition will be highlighted monthly on all our social media portals. It will go to an individual who has excelled in their respective sport over the past month.
We are pleased to announce Grady Tetrault and Austin Spencer as MASRC's Athlete of the Month for June and July 2019!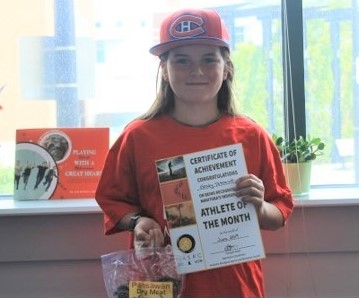 Grady Tetrault
Grady is a 11 year-old Metis athlete from Winnipeg. He plays both Hockey and Soccer although he says Hockey is his favourite of the two. Grady has been playing hockey for 6 years and says the best part is having such great coaches to learn from, having great team mates to play with and of course having lots of fun.
This Spring Grady played in the MASRC Indigenous Minor Hockey Tournament with the Manitoba Penguins. His team placed third in the tournament and he received a "player of the game" award. His regular season team, the St Boniface Seals also had a taste of victory at the George Watson Tournament in Regina this year. When Grady wasn't busy playing hockey he was playing Soccer. This year he played with the Winakwa U12 Soccer team a year ahead of schedule! Way to go Grady!
When asked what he's learned through being an athlete, Grady told us "Play for the name on the front of the jersey, not the name on the back, because working hard and playing as a team helps you achieve so much more."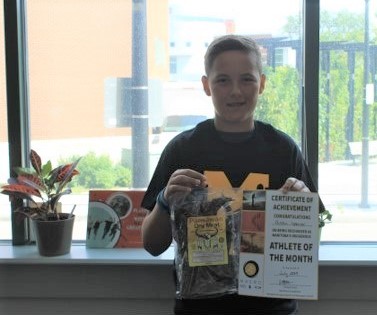 Austin Spencer
Austin is a 12 year-old, First Nation athlete from Winnipeg. He is a member of the Kinosao Sipi Cree Nation. He plays Hockey, Baseball and Volleyball with Hockey being his favourite. Austin has been playing sports since he was 5 years old and and says the best part is getting to compete and always improving.
Austin has had a busy year! He played Hockey during the regular season with the Niverville Clippers, and competed at Indigenous tournaments with the Norway House North Stars and Sagkeeng First Nation. He was also one of the youngest players in the 204 Volleyball club and attended provincials in May. His coach has said he was one of the strongest players at provincials and always shows great leadership both on and off the court. Aside from Hockey and Volleyball, this year Austin also played Baseball with the Niverville Wildcats and made the AA Carillon Sultans Baseball Team! Keep up the great work Austin!
Austin says the most important lesson he's learned from being an athlete is to never give up and always try his best.
Congratulations Grady and Austin!
---