Coaching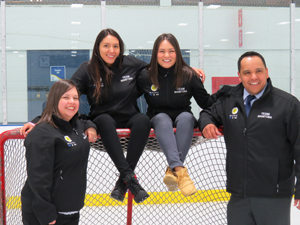 The MASRC's goal is to support community development in Manitoba. The MASRC assists in increasing the number of Aboriginal Coaches in Manitoba through the National Coaches Certification Program (NCCP) with Coaching Manitoba. We also believe in coach further coach training in addition to the NCCP courses. Please contact us for more information.
Upcoming Coaching events:
Feb. 17, 2019 Aboriginal Coaching Module
March 1-3, 2019 Coach Development Weekend
A partnership with Coaching Manitoba is key in delivering the goals and objectives of the Sport Leadership Program. Coaching Manitoba has recognized the need to increase the number of Aboriginal coaches in Manitoba. They are the vital link needed to bring the qualified and professional clinicians who instruct and guide the participants through the courses. They provide the necessary financial resources to bring this person to the community and also through various grants they are able to assist participants in obtaining their certification.
The increased interest in the North American Indigenous Games and in particular Team Manitoba, has identified the need for more qualified and certified coaching staff to prepare our athletes for grassroots development, provincial competitions and beyond. NAIG and MIG (Manitoba Indigenous Games) coaching standards call for fully certified level 1 coaches. Manitoba will meet this requirement and endeavor to have coaches trained and certified to level 2 certification.

The Aboriginal Sport Circle, the National Voice for Aboriginal Sport in Canada, has developed the Aboriginal Coaching Manual as part of their strategy of educating both Aboriginal and non-Aboriginal coaches on the challenges faced by Aboriginal athletes. Through years of research, consultation and draft reviews the manual provides coaches with additional resources such as reading and workbook material specifically designed to assist identifying and addressing challenges in the areas of Lifestyle, Nutrition, and Racism.